McClatchy and Rosemont High Schools

Students from McClatchy and Rosemont High Schools went on their semester end RTSWS field trip to the California State Teachers' Retirement System(CalSTRS) offices in Sacramento, CA. They were welcomed by financial professionals from CalSTRS and California Public Employees' Retirement System (CalPERS).  CalSTRS manages a $190 billion portfolio of investments; CalPERS manages $360 billion.
The field trip represents the second of three components of the RTSWS academic year-long program. Those components are:
Series of five hands-on financial projects in their classrooms led by female financial professionals in the fall 

Wall Street Experience Field Trip at the end of the fall semester

Mentor/Protege program held during the spring semester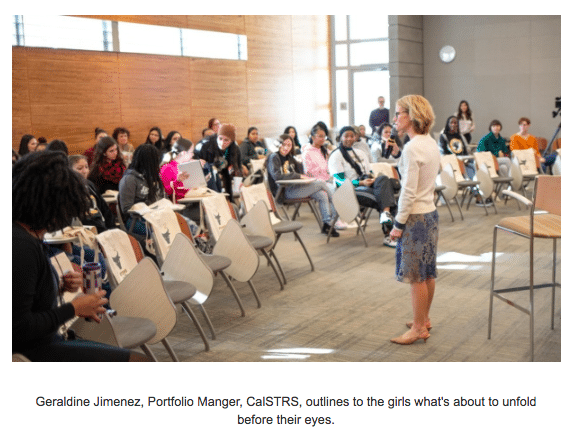 Asset Classes
The girls visited and heard from female financial professionals in the following CalSTRS asset classes:
Global Equity

Fixed Income Investment Operations 

Alternatives (Private Equity, Real Estate, Inflation Sensitive)

Risk Mitigating Strategies and Innovation and Risk
The girls learned how CalSTRS provides retirement, disability and survivor benefits for California's prekindergarten through community college educators and their families. And they learned how CalPERS manages pension and health benefits for California public employees, retirees, and their families. 
They also learned about the type of investments that are managed in each asset class and what skills are needed to work there. The pros discussed with the students what was impacting recent market action — Fed policy, interest rate forecasts and trade tariffs. 
---
Local NBC Affiliate TV Station
Leticia Ordaz, Anchor/Reporter from station KCRA joined us for the day at CalSTRS. They wanted to learn more about how RTSWS and CalSTRS/CalPERS are increasing the number of fearless girls. Click on the image below to see the segment.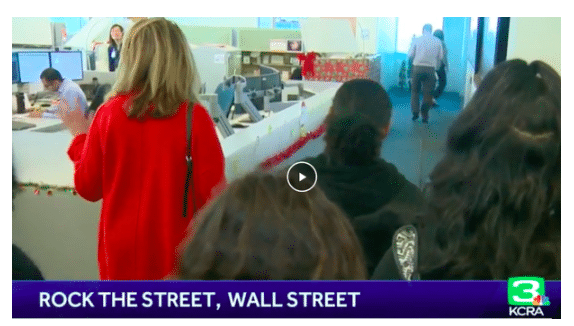 ---
Joint Panel Discussion with CalSTRS and CalPERS
After their tour to the various asset class departments, five women shared where they came from and how they got to CalSTRS and CalPERS. These included:
June Kim, Investment Director, CalPERS

Katie Carl, Investment Officer, CalPERS

Adriana Gutierrez, Investment Officer, CalSTRS

Harmony Lu, Investment Officer, CalSTRS 
And, Brenda Dulger-Sheikin, Senior Vice President, State Street was invited to join the panel. State Street commissioned the Fearless Girl statue who recently found a new home opposite the New York Stock Exchange in NYC. (Click on video below.)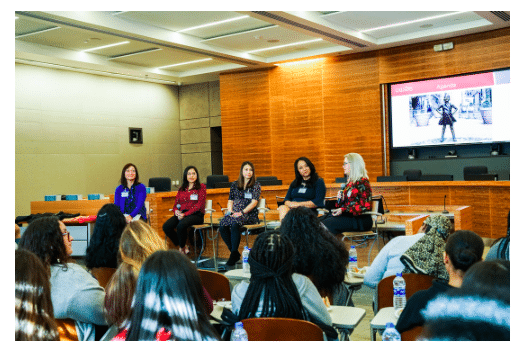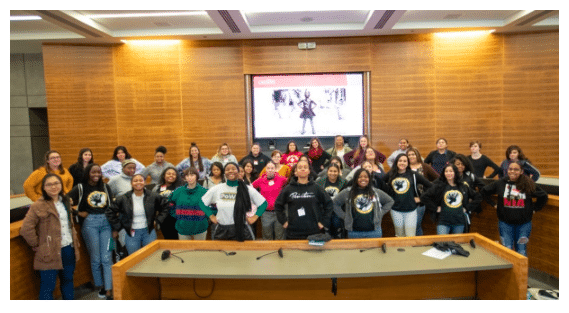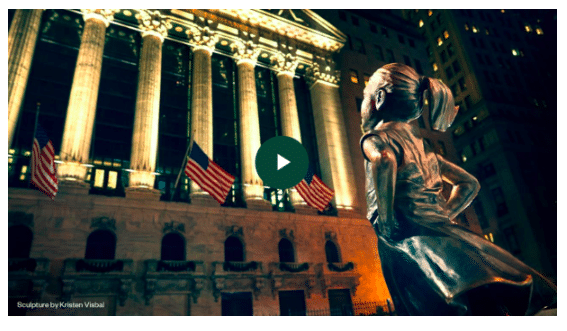 Volunteer Comments
"This is something I feel very strongly about–increasing the gender diversity in the investment industry and 
we need to start early so RTSWS is a great program…  
Slowly but surely we are trying to move the dial in this industry and hopefully affect that change. It is exciting to see the amount of interest with the volunteers that we have and then as more people find out about it, more people are interested.
  – June Kim, Investment Director, CalSTRS
"At the end of the semester I saw the girls come together and share a presentation so they learned how to be leaders, they each learned how to be financial planners and think on their own and give advice and consultation to their client, Janella… 
It was a great opportunity for me and my colleagues at CalPERS to partner with CalSTRS. We are sister retirement systems so it was a great opportunity for me to get to know some of my CalSTRS peers better. We often work together on other things.  This gives us a more personal relationship where we have a commonality or a bond to be able to work together for a better future."
– Kami Niebank, Deputy Chief Compliance Officer, CalPERS
Student Comments
"I take math more seriously. If finance is a career I want to go into, it shows that math is an every day, all day thing that we will come across." 
– Darla Gomez, 17 year old, Rosemont High School
School Administrator Comments
"Our women are the future. We hear it. We see it now from Michelle Obama and the work that she has done, from Oprah and the things she's doing. From amazing teachers and the people at CalSTRS who are doing great work—to be able to get our young ladies into a place where they can learn about finance, learn about investment, understand STEM is huge because there are so many opportunities out there for our young ladies to be in a role that they just don't know about, so sometimes we miss out on the opportunity…
The vocabulary is huge, being able to talk through things. The other swing is that women do do these jobs. Coming into this space and being able to see women leading is huge and sometimes we don't understand the importance of being able to put people in front of the students and show them this is something you can do. We are not just telling you that you can do it, we are showing the girls that they can do this job." 

-Marcus Strother, Director of Youth Development, Sacramento City Unified School District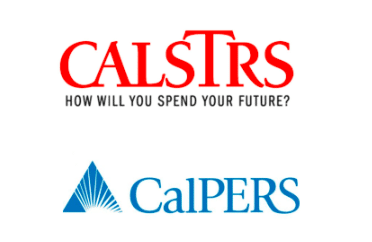 Thank you, CalSTRS and CalPERS.
You're what making a difference looks like.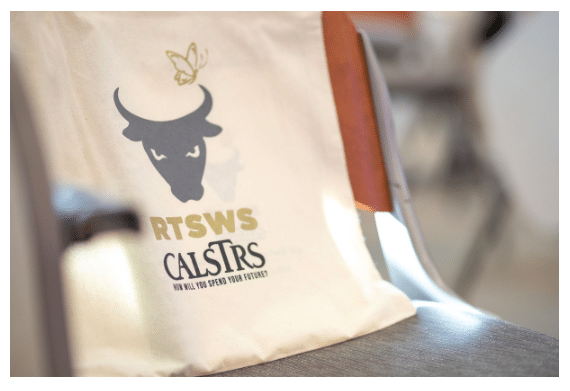 RTSWS is moving girls forward in the field of finance in 13 U.S. cities–more than 
1,700 students and counting.