RTSWS is proud to announce that it received funding from two global financial firms, TD Ameritrade and Jackson National Life Insurance, to expand its program to a full academic year. RTSWS offers on campus financial literacy classes taught by female financial professionals in the fall. In the spring, we now offer a formal Mentor/Protege program. Our girls are paired one on one with a female financial professional whom they meet with to widen their understanding of finance and a career in finance. They get acquainted with women who can "walk the talk" on financial matters.
Last week, RTSWS proteges from Byron Nelson High School in Ft. Worth, Texas job shadowed their mentors at the TD Ameritrade regional offices. This experience helps our students determine their college and career paths. These girls had participated in the fall financial literacy classes RTSWS offered at their school and then signed up for our spring Mentor/Protege program to get to know better the financial professionals who taught their classes. The classroom and the internet can't beat the experience of learning about a company or career by experiencing it in person in the shadow of a working professional. TD Ameritrade enabled our students to spend time observing their financial professionals on the job.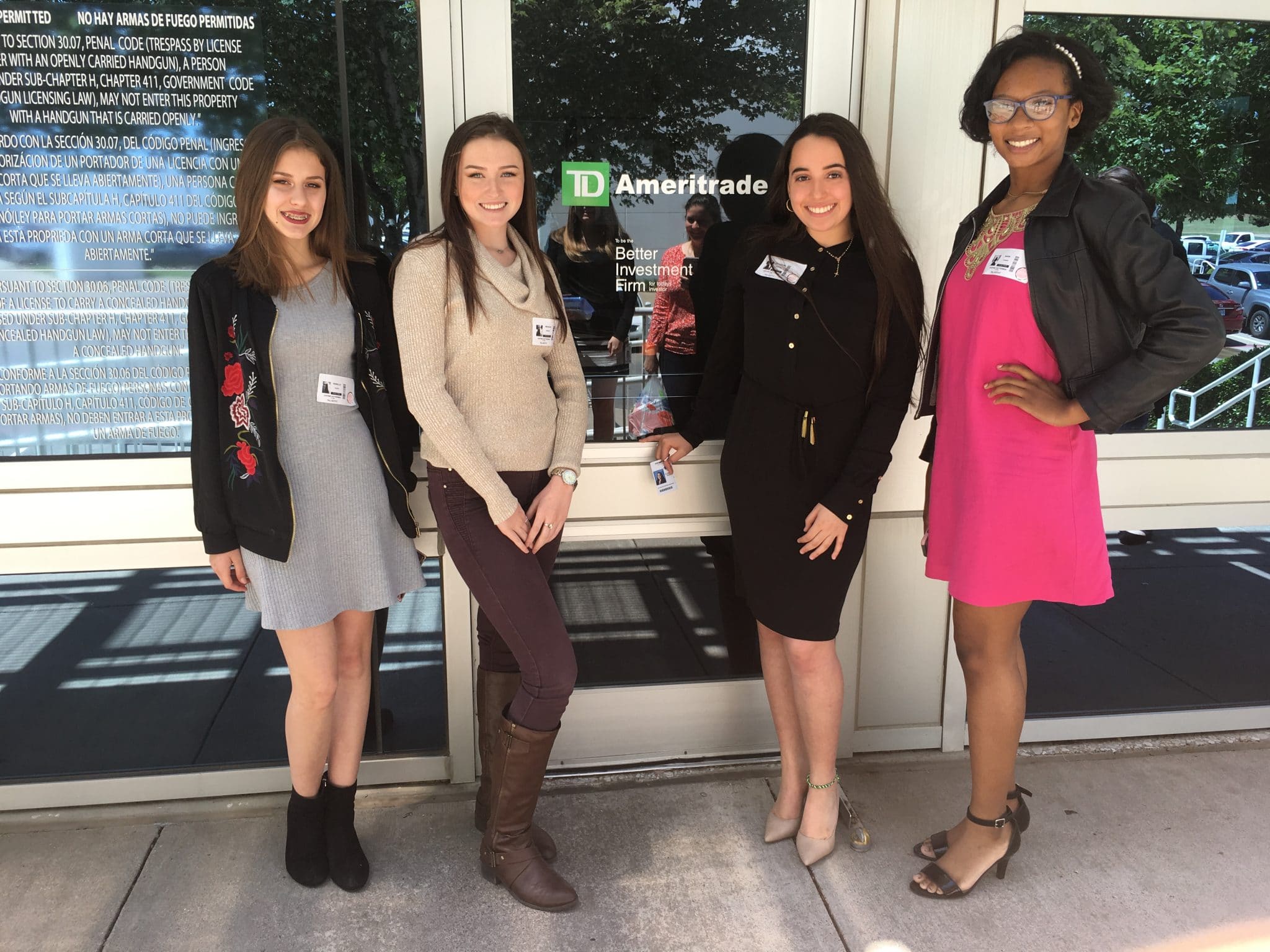 Job-shadowing is often touted as a career-exploration activity for high-school students to help them determine a career path to follow. Shadowing also helps students see how their textbook learning of financial concepts can be applied in the real world. These are invaluable experiences.  Young students about to embark on college studies and just starting to think about careers, try on jobs by visiting workplaces and observing what goes on. By experiencing a workplace first-hand, our students learn a great deal more about a career in finance than they can through research in print publications and on the Internet. They learn what it takes to enter into the field of finance and how to plan their college studies to get them there.
Job shadowing in a STEM profession is critical for girls. As our founder, Maura Cunningham states, "The #1 reason girls don't choose STEM careers – They don't see women in those careers. The #2 reason – They don't see their girl friends choosing those careers. IT'S THAT SIMPLE." 
RTSWS continues to broaden the STEM pipeline by opening financial industry doors to girls.