Omaha Students 
CEO of 

TD Ameritrade 
and 

Judy Ricketts

Last month, students from Burke High School in Omaha,NE capped off this semesters' RTSWS program with a field trip to the TD Ameritrade corporate headquarters. After six weeks of financial hands-on projects in their classrooms, led by female financial professionals, t
hey were warmly welcomed on this day by Judy Rickets, Managing Director of Investor Relations and RTSWS Board member. She shared her college and career paths with the girls and answered their many questions about a life in finance.
---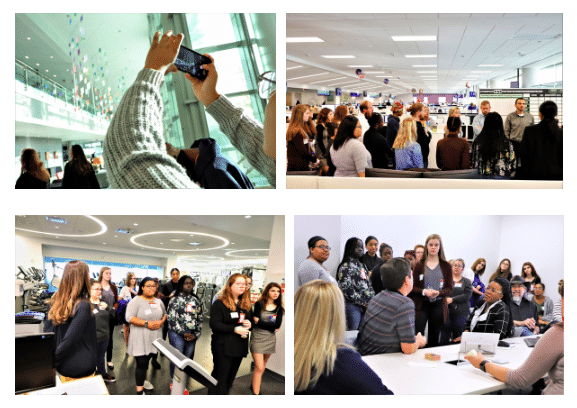 Next, the students toured many of the various headquarter's departments where they heard descriptions about each division and then were given time to ask questions to get more granular about distinct job positions.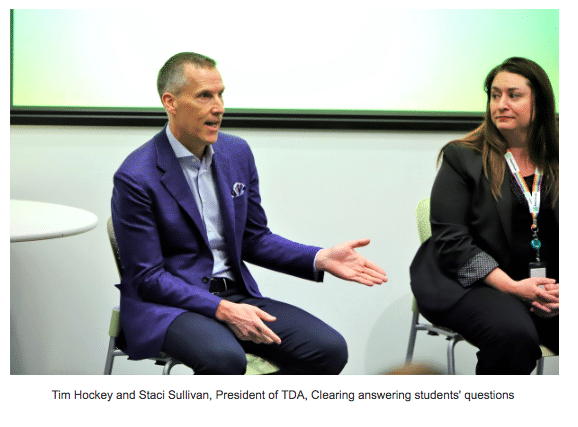 Tim Hockey, CEO of TD Ameritrade
Tim joined the panel discussion and shared his thoughts with students on pursuing a career in finance. He also took questions from the students on how to listen, lead and manage from the top.
What Burke High School teachers have to say about the RTSWS program
"In any opportunity where you're going to experience leadership, finance is going to be a part. We looked at RTSWS as an opportunity for our students to get the practical real-world experience that they need and to be given a connection that other students, quite honestly, don't get… to be a part of a program like this so that they can succeed in the future." 
— Andrew Brooks, Director of Focus Program at Burke High School
"I see my students ready to work here. I'm seeing them ready to take on some new learning that might seem intimidating, that might seem a little scary at first but also that they are willing to learn because a lot of the values they have align with this particular company. They like the information that is coming at them, they like to be challenged, they like to be put in leadership roles."
— Randall Howard, Focus Teacher at Burke High School 
---
Student from Burke HS

"I didn't realize how many different things there are in finance, like retirement plans, 401k's and trading…

When I first got a job, I kind of just blew my money and now after participating in the Rock The Street, Wall Street program, I'm putting money aside to save and make a 'no touch' account, so it's really beneficial to me."


–Grace Steiner, a Junior at Burke High School

---
Thanks TDA! 
Your inviting corporate culture, innovation and leadership 
is just what our high school girls need to see and experience.