We are officially on the West Coast!
Students from Harvard-Westlake in Beverly Hills are off to a fast start as they got right down to business.  
RTSWS volunteers, all female financial professionals from TD Ameritrade, began with a discussion on what it means to be "in the market", why the market "closes" and covered the basics about the Dow, Nasdaq and the S&P indices. 
Students downloaded a stock market app to their phones and added four securities (FB, AMZN, SBUX and AAPL). The students are looking at the app each day and calculating the current value of this portfolio assuming they owned 100 shares of each. Each week, they are discussing their findings with the TD Ameritrade pros. This includes what happens in the broader markets, how political landscapes affect global markets, what causes price fluctuations of each stock and the current return on "paper" investments.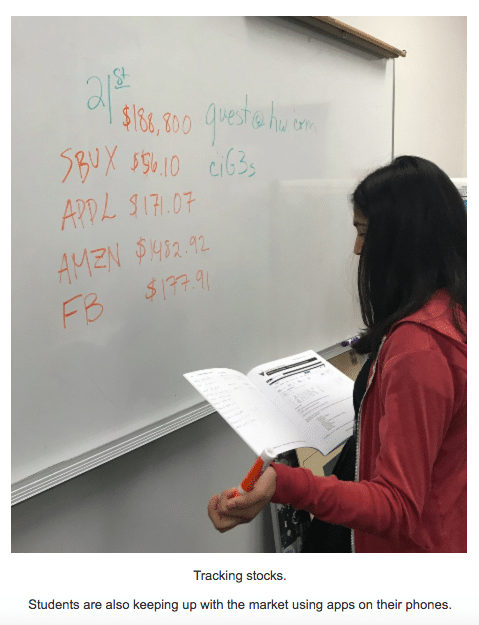 The girls are engaged and have many good questions about the stock market such as:
"How many shares of Amazon are out in the market?"

"Is there always someone on the other side of a trade to buy/sell a stock?"

"How does bad news affect a stock price?"
The students, role playing as a financial advisor, were then introduced to "Jane", their 28-year-old client. They reviewed a copy of her pay stub, current expenses, savings goals and wish list. The students then split into teams to begin research on local cost of living expenses, interest rates and market returns. They brainstormed as small groups throughout this session and will do so next session to create a budget for Jane given her $68,000 annual starting salary.
Welcome ladies to the value of knowing how to do financial math in the real world and learning how to SAVE AND INVEST!
Among women, financial illiteracy cuts across all socioeconomic classes. 
When two out three women state they know little to nothing about finance, this is a cause for concern.

When 80% of teachers self-report that they do not feel qualified to teach financial literacy, this is a cause for concern.
When the number of women leading the financial services sector and S&P 500 companies drops to 4.6% after a 40 year high of 5%, this is a cause for concern.
For International Women's Day we are all being challenged to #BeBoldForChange and for us that is continuing to pledge to helping spark the interest of high school girls into careers in finance and teach financial literacy.
Here is where we stand:
We will be bold and forge women's advancement.
Rock The Street, Wall Street encourages girls to explore a career in finance by acquainting them with leading women in the financial services industry. By reaching out to girls while in high school, we'll commission them to take charge of their finances at an early age. We illuminate the relevance of finance in everyday life and encourage girls to study math and finance, and seek a profession in the financial industry, where women are vastly under-represented and comprise a small percentage of the industry leaders.
Our students are being educated beyond their core components of classroom curriculum. They are being engaged in higher thinking, the big picture, and the ability to envision their financial futures for themselves, their families and their communities.
Our Locations