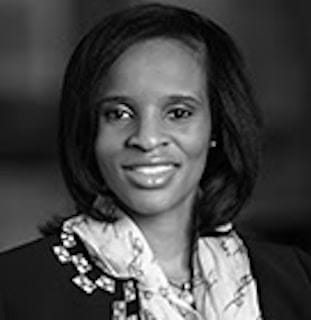 Olaolu Aganga
Olaolu is BlackRock's Senior Client Chief Investment Officer for Endowments, Foundations and Healthcare within Multi-Asset Strategies and Solutions. As Client CIO, Olaolu is responsible for the investment performance on client mandates and for delivering the best of BlackRock's investment thinking through strategic asset allocation design, portfolio construction, manager selection, and tactical asset allocation. Olaolu earned a BA in Mathematics from Smith College, an MBA and a Certificate in Public Management from Stanford Graduate School of Business and holds the Series 3, 7, 24, 55 and 63 FINRA licenses.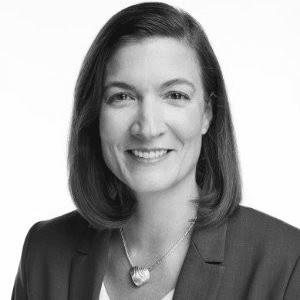 Michelle Borré, CFA
Michelle is the former Senior Portfolio Manager, Head of Alternative Strategies at Invesco. She is currently focused on financial education through non-profit organizations providing personal finance instruction for young people and as the founder of a nascent financial education platform. Michelle holds a bachelor's degree from Barnard College, Columbia University and an M.B.A. from Columbia Business School. 
Delano Brissett

Delano Brissett is a lifelong learner, educator, and technologist who has dedicated his life to empowering others to reach their fullest potential. A product of the New York City public school system, he is a tireless advocate for providing pathways to equal opportunities for everyone. After graduating from Dartmouth College with a degree in mathematics, he returned to NYC to teach mathematics at Mott Hall 4 in Brooklyn, NY.
He then went on to earn an MBA and a Master's in Education from Stanford University. After his time in education, Delano worked as a management consultant at Boston Consulting Group, where he advised executives and leaders in education, media, and technology. He then founded his own education technology startup focused on workforce training. He is currently a product manager at Google, where he has worked in a range of product areas, including Gmail and YouTube. Delano lives in Oakland, CA, with his lovely wife and two precious daughters.
Gretchen Flicker, CFA.

Gretchen Flicker spent 25 years in the financial services industry, with nearly 21 years at Dimensional Fund Advisors. As a senior institutional investment executive, Ms. We Flicker filled several roles over her career including business development, key client management, the establishment of new business lines, and customized strategy and vehicle development. Early in her career, Ms. Flicker held positions with Hewitt Investment Group and SEI Corporation. In January 2019, Ms. Flicker stepped away from Financial Services to dedicate more time to her family and philanthropic activities.
Ms. Flicker served on the Saint Mary's College Board of Trustees from 2011 – 2022, including as Treasurer from 2014-2017, as Vice Chair from 2018-2019, and as Chair from 2019 – 2022. She previously served as a director and the board secretary for The Friends of Avila Pier, Inc., a 501c(3) California Non-Profit Corporation. Ms. Flicker holds an MBA degree from the University of Chicago Booth School of Business with concentrations in Finance and International Business. She holds an additional MBA from the Katholieke Universiteit Leuven and a BA from Saint Mary's College (IN) with majors in Mathematics and Business Administration.
Anders Hall, CFA
Anders is the Vice Chancellor for Investments and Chief Investment Officer at Vanderbilt University, where he is responsible for the university's $7 billion endowment. Before joining Vanderbilt in 2013, he held positions at Duke University, Hewitt Investment Group (now Aon Hewitt) and Prudential Financial. Anders earned a bachelor's degree in economics and public policy studies from Duke University and an MBA in economics and finance from New York University's Stern School of Business.
Meredith Jones
Meredith is Author of Women of The Street. Why Female Money Managers Generate Higher Returns (And How You Can Too)—a 2016 Axiom Business Book Awards Gold Medal Winner. She founded MJ Alternative Investment Research in 2014.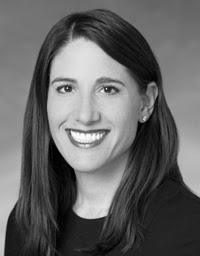 Penny Novick
Penny is a Managing Director at Morgan Stanley within the Institutional Equity Division ("IED") as the Global Co-Head of Prime Brokerage and is a senior member of the management team serving within the Equity Operating Committee.  She serves on three advisory councils for Cornell University, is on the Managed Fund's Association's Board of Directors as well as two MS Divisional Diversity Councils. Penny holds a BS from Cornell University, graduating With Distinction and an MBA from NYU Stern School of Business.  She also holds a CPA license with the State of New York.
Tricia Rothschild
Tricia Rothschild is an entrepreneurial financial services executive who previously served as the Chief Product Officer and Co-Head of Global Markets at Morningstar and also as President of Apex Fintech Solutions. She is currently a non-executive director of Nitrogen (formerly known as Riskalyze), the Vice Chair of the CFA Institute board of governors, and also serves on the board of directors for the Financial Fitness Group and is an industry advisory for Advent International.
In her 26-year career at Morningstar, she led data, analytics, research, and software P&Ls from start-up to global scale. She appeared on Financial Planning's 2021 "Most Likely to Change Wealth Management" list and received Investment News' 2020 "Women to Watch" award.
She is active in philanthropic efforts, including co-founding the Chicago Giving Circle, and is a member of a local a-cappella group, The Sheridan Singers. In addition to being a CFA Charterholder, she earned an undergraduate degree from Northwestern University and a master's degree in Russian and East European economics from Indiana University.
Arthur Steinmetz
Art is the former Chairman, CEO and President of OppenheimerFunds. After joining the firm in 1986, Art was an analyst, portfolio manager and Chief Investment Officer. Art was named President in 2013, CEO in 2014, and, in 2015, Chairman of the firm with $250 billion under management.
Reginald G. Sanders, CFA, CAIA
Mr. Sanders is Director of Investments for the W.K. Kellogg Foundation. He was previously Manager of Pension Investments for Eastman Kodak Company. Before Eastman Kodak, Mr. Sanders was an equity research analyst for AEW Capital Management and T. Rowe Price Associates, Inc. Mr. Sanders is a graduate of Florida A&M University and Harvard Business School, where he was a Robert A. Toigo Fellow. Mr. Sanders currently sits on the State of Michigan Investment Board and on the Investment Advisory Committee of the Harry and Jeanette Weinberg Foundation.
Stephen Tisdalle
Stephen Tisdalle most recently served as the Chief Brand and Demand Generation Officer for TIAA and Nuveen Asset Management where he served on the Executive Operating Committee. He was responsible for the enterprise-wide brand strategy and demand generation campaigns across 5 million active and retired participants at more than 15,000 institutions.
Prior to TIAA/Nuveen, Stephen was the Chief Marketing Officer of State Street Global Advisors, the third largest asset manager in the world, with $3.8 trillion in assets under management. He was responsible for brand and advertising, digital strategy, global institutional and intermediary marketing, internal/external communications and social media. Stephen was also a member of the Executive Management Group, the company's most senior strategy and policy-making team.
Stephen and the marketing teams he has led are recognized for their award-winning campaigns that position brands in the national narrative on major issues to increase awareness and attract new audiences. He pioneered and led the Fearless Girl campaign that has helped raise awareness around the globe of the power and potential of women in leadership, as well as the
connection between increasing gender diversity on boards and long-term company performance.
Stephen has won numerous industry accolades and awards, including four Grand Prix topnhonors at the Cannes Lions Festival of Creativity, Advertiser of the Year at the Clio Awards, Best in Show and the CMO Pencil from the One Show Awards, the Grand Effie awards for both Most Effective Brand and Most Effective Marketer, as well as Individual Marketer of the Year from the ANA.
Prior to joining State Street Global Advisors, Stephen served as Senior Vice President and Head of Marketing for OppenheimerFunds, Inc. and its subsidiary OFI Global. He was responsible for promoting the firm's thought leadership and investment strategies across Retail, HNW and Institutional channels within Brand Advertising, Corporate Communications and PR, Digital Strategy, Creative Services and Integrated Channel Marketing.
Stephen has a broad range of experience in various senior leadership roles in brand and advertising at both Ogilvy and Saffron Brand Consultants. He also has a deep bench of business strategy and change management experience from his senior manager roles at IBM and PwC Consulting, in both the US and the UK.
Stephen earned his M.A. in History from the University of California, Los Angeles and his B.A. (Hons) in History from the University of British Columbia. He and his wife have two sons and reside in Boston.
Ceci Marshall
Ceci Marshall works in revenue strategy at Google, focused on incentive design and global advertising strategy. Prior to her role in revenue strategy, Ceci worked as the chief of staff for the VP of Subscriptions at YouTube.  Ceci holds a deep passion for increasing financial literacy amongst children and teens. She has channeled her passion through the creation of a social media account @FinancesReimagined, where she aims to educate on personal finance fundamentals, breaking down complex financial topics into digestible and informational graphics. 
Dr. Angela McShepard-Ray, Ed.D
Dr. Angela McShepard-Ray, Ed.D is the Principal at MLK High School in Nashville, TN, a top ranked, academically rigorous school. Dr. McShepard-Ray holds a Doctorate of Education from Vanderbilt University.  
Viraj Parikh
Viraj Parikh is a Managing Partner at TechCXO, LLC (outsourced CFO consultancy) with over 25 years of experience as an education and software executive, board director, investment manager and analyst, and Big 6 accountant.  
Judy Ricketts
Judy is Executive Vice President of Operations at LPL. Prior to that, she was Managing Director of Investor Services at TD Ameritrade, where she worked for over 20 years.
Linda Schacht
A former fellow at The Center for Public Leadership at Harvard Kennedy School, Linda Peek Schacht served in the Carter White House press office, as press secretary to the US Senate Majority Leader and Vice President for global communications strategy for The Coca-Cola Company.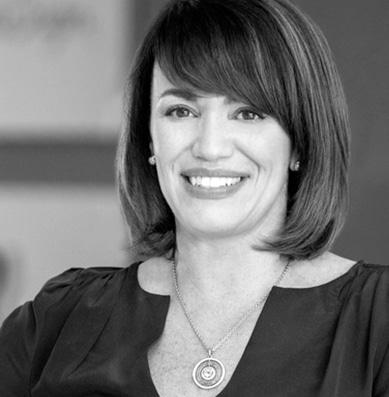 Tracy Sedlock
Tracy Sedlock has taken a strong interest in RTSWS given her overall interest in diversity and education opportunities, and she knows firsthand that financial literacy is an important component of both.  She serves as Accel's Chief Operating Partner and has been with the firm since 1995. Tracy worked as a manager of investments at Princeton University, focused on alternative assets and planned giving. She was also an auditor for Deloitte & Touche where she focused on clients in the financial services sector. 
Deborah Taylor-Tate 
Deborah Taylor Tate is Executive Director-TN Supreme Court Administrative Office of the Courts. She is a two-time U.S. Presidential nominee and served as Commissioner, U.S. Federal Communications Commission under President George W. Bush. She was also a participant in bilateral negotiations and leader in international media/telecom/broadband policy.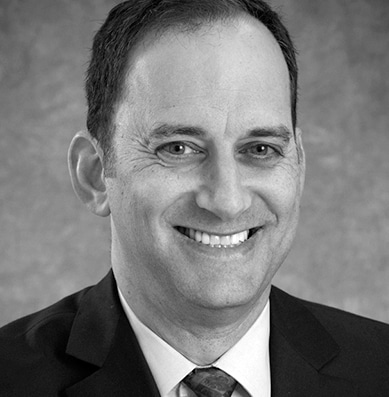 Matthew Stone, CFA
Matthew Stone is a strong advocate for diversity in the financial industry. He has been with the University of Chicago since 1999. From 1999 to 2009 he initiated and then managed the endowment's external hedge fund manager portfolio. Beginning in 2009 his portfolio expanded as he was named Managing Director of Public Markets and Absolute Return. His team is responsible for investment decisions in public equities, hedge funds, public credit, private debt and fixed income. Matt earned a bachelor's degree in English from the University of Pennsylvania and an MBA in finance and marketing from University of Chicago's Booth School of Business.