Rock The Street, Wall Street encourages girls to explore a career in finance by acquainting them with women in the financial services industry. By reaching out to girls while in high school, we'll commission them to take charge of their finances at an early age. We illuminate the relevance of finance in everyday life and encourage girls to study math and finance, and seek a profession in the financial industry, where women are vastly under-represented and comprise a small percentage of the industry leaders.
Rock The Street, Wall Street offers girls a pathway to personal money management through:
Through our volunteer female financial professionals, girls are introduced to financial concepts such as savings, investments, capital markets, budgets, stocks, bonds and college financial preparedness. What better way to strike at the investment gender gap than to educate girls on the value of managing money and introducing them at a young age on how to budget for college, life post college, salary negotiations, and how to invest their first earned savings dollar.
If they can see it, they can be it. Instruction, mentoring and exposure to female financial pros in the classroom and at the firms are reasons why our new model is gaining momentum. Girls are given an opportunity to see financial professionals at work in this field where females and minorities are woefully underrepresented. This is critical as women in STEM aren't depicted in popular culture from which girls at this age are predominately influenced. RTSWS offers girls a pathway to better academic performance, school attendance, post-secondary enrollment, college prep, financial literacy and career preparedness.
Our students are getting a hands on, first person look into how to manage a budget and savings as well as a career in finance, where the jobs are growing each year. An undergraduate degree in business, finance, economics or accounting as compared to other undergraduate majors offer a high return on investment. This is critical to those students who do not have the financial wherewithal to attend graduate school. STEM profession are the tools to lift people out of poverty in one generation.
Classroom Workshops/Financial Projects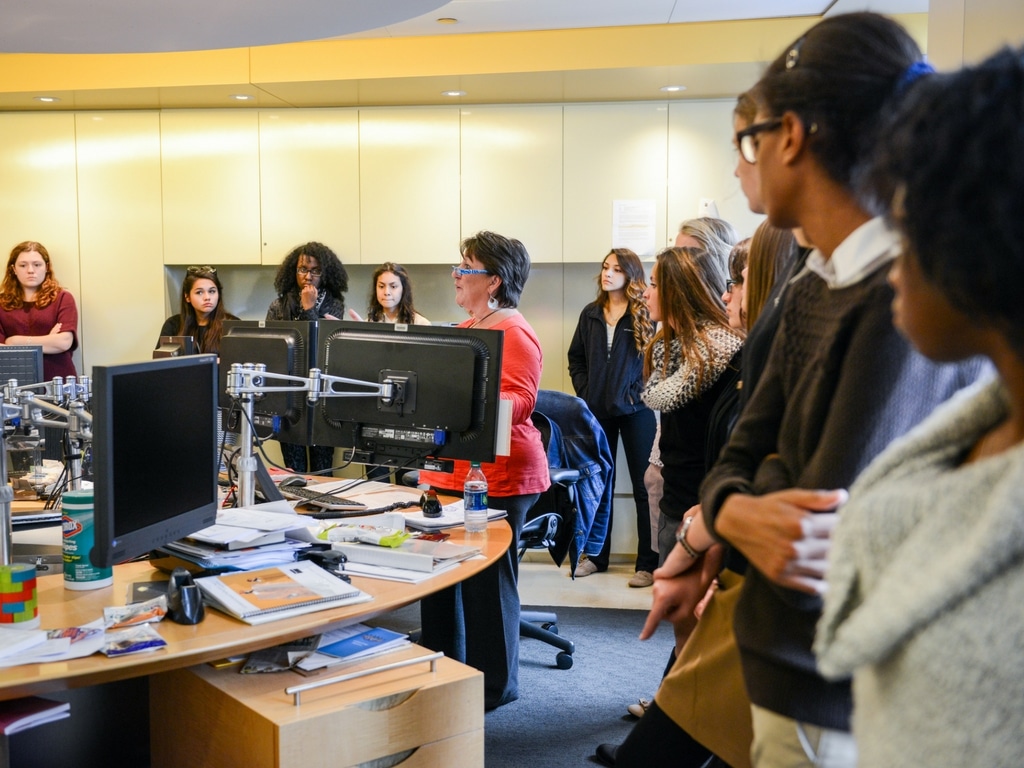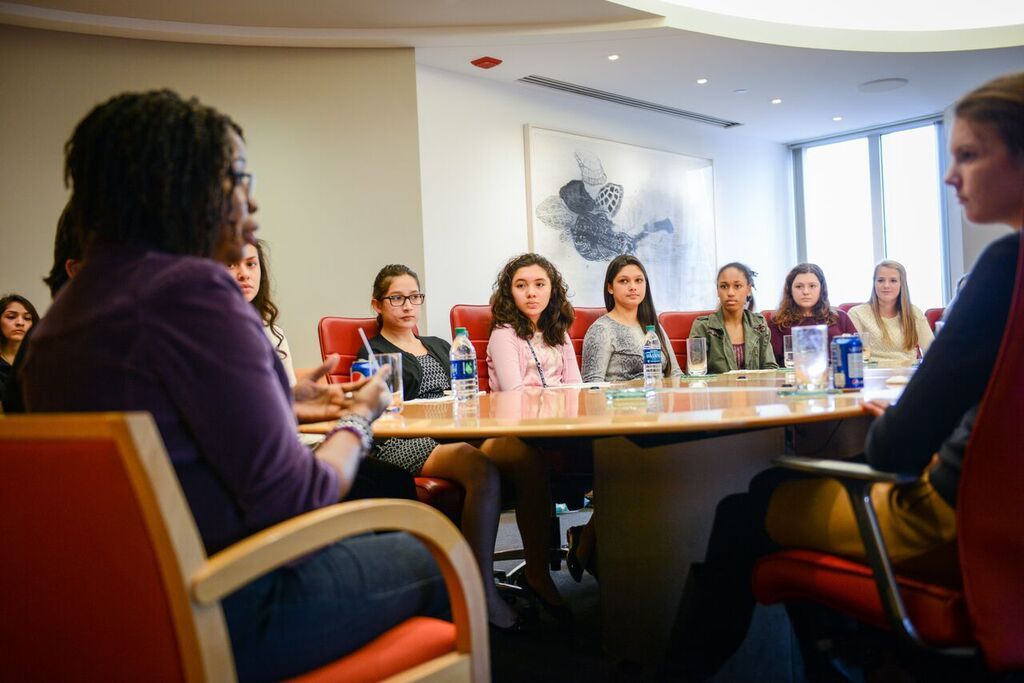 Classroom workshops are held during a five-week period and are led by female financial professionals. Our open-sourced curriculum is cutting edge as we 'rip from the headlines' news events that are affecting today's economy, public policy, and stock and bond markets.
The Rock The Street, Wall Street experience includes:
Life skills: Five weeks of hands-on activities in financial literacy including financial projects on budgeting, spending while in college, allocating paycheck deductions, evaluating company stocks and bonds, stock market updates, salary negotiation, saving and investing for retirement.
Exposure: Speakers, demos, workshops, and presentations from female financial professionals and entrepreneurs; field trips to financial services firms, banks, state and corporate treasury departments, entrepreneur centers, and more. Rock The Street, Wall Street engages with the local financial community. We facilitate exclusive connections where possible, providing unique opportunities to Chapter participants.
Community: As Chapter participants, girls have access to this supportive and engaged local network of teachers, mentors, professionals, and fellow students.
Learn about our on-campus classroom workshops and financial projects.
Mentorship/Job Shadowing Program
Our mentors provide guidance to their proteges about college major/minor preparation, career interests and life challenges. Our
one-on-one mentorship program is designed to encourage girls to take charge of their financial lives at an early age, help them transition to college, STEM skills training, job shadowing and first-time job coaching.  
Mentoring and job shadowing are valuable resources in developing the student's self confidence, providing accountability for her goals, discovering her interests and professional aspirations. By sharing time and expertise via face-to-face time, emailing and texting during the course of their relationship, it is our hope that both mentor and protege will become comfortable sharing ideas on life, overcoming obstacles, leadership, academic, and career goals. At the offices of our sponsor firms, girls get firsthand experience with job shadowing. We have Rock The Street, Wall Street mentorship and job shadowing relationships that have lasted for years and attest to the effectiveness of a formal mentorship program.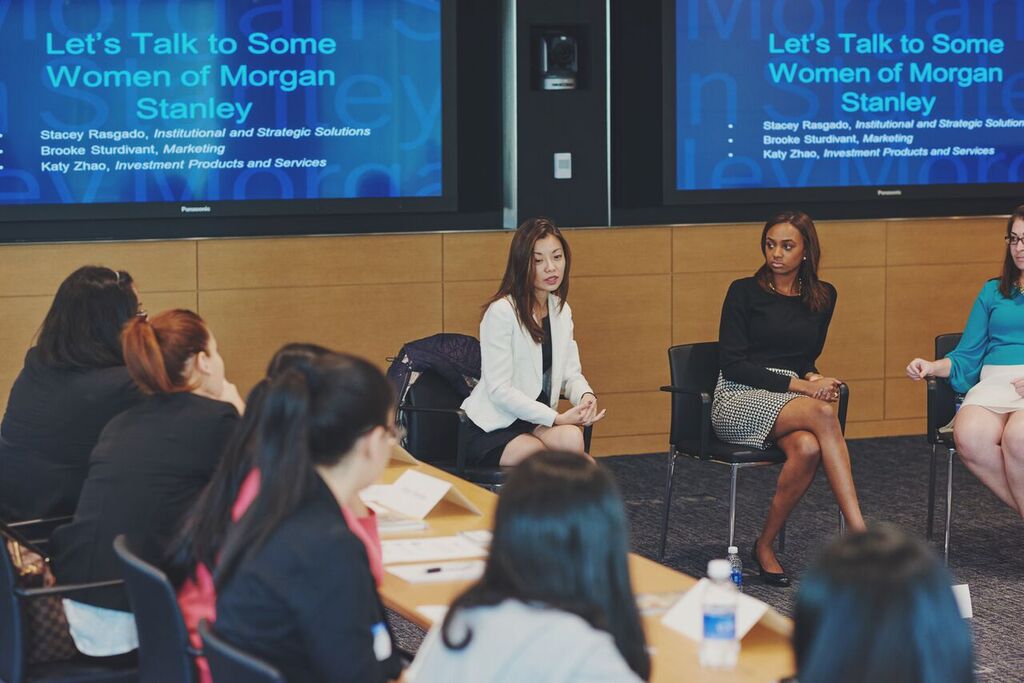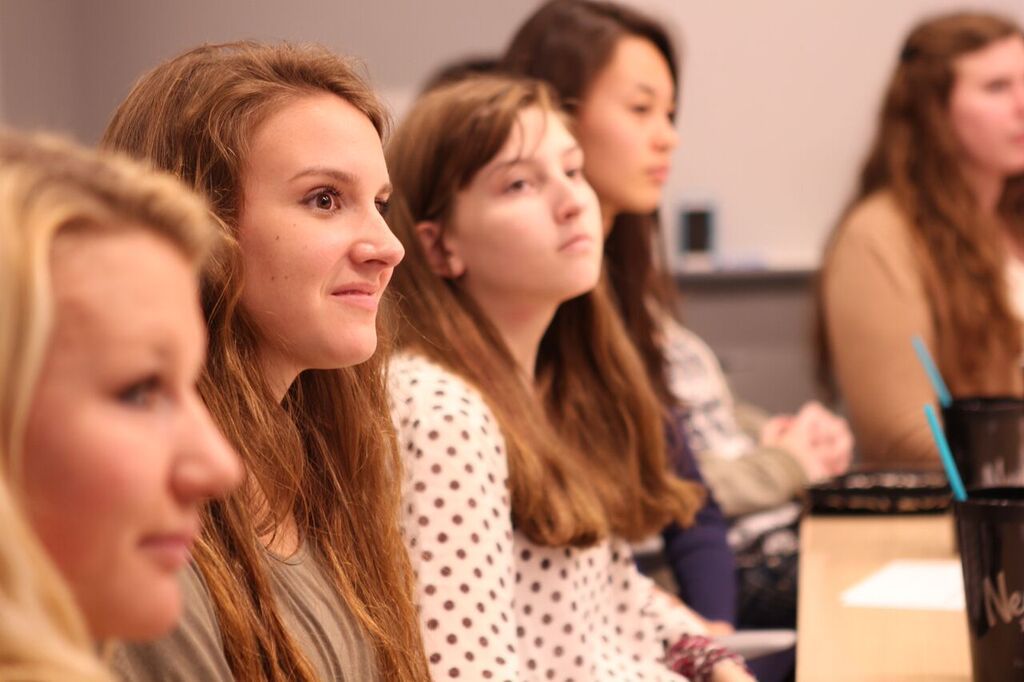 Our Locations:
– Charlotte
– Dallas
– Fort Worth
– Los Angeles
– Nashville
– New York City
Charlotte-Mecklenburg Schools
Dallas – Northwest Independent School District
Fort Worth – Northwest Independent School District
Metro Nashville Public Schools
New York City Department of Education – Public Schools
Cannon, Shelby, Sumner, Williamson and Wilson  Counties,  (TN) Public Schools
The Archdiocese of Chicago Catholic Schools
St. Mary's Episcopal School, (Memphis)
Harpeth Hall High School, (Nashville)
Frequently Asked Questions
What are Rock The Street, Wall Street Chapters?
The Rock The Street, Wall Street year-long program offers financial literacy courses to 10th – 12th grade girls nationally. Girls meet weekly and are taught by volunteer instructors trained on Rock The Street, Wall Street curriculum. In addition to learning financial concepts, Chapter participants get exclusive access to Rock The Street, Wall Street events and speakers. Any school, community center, library, or local non-profit organization can serve as a host site and start a Rock The Street, Wall Street Chapter. Funding is needed to do so. The host site provides: dedicated administrator at the host site, Volunteer Instructor with financial services experience (or Rock The Street, Wall Street will work to match an instructor to your site), a dedicated space where girls can hold their meetings for a one hour block once a week, reliable internet access, projector, and whiteboard. Rock The Street, Wall Street provides the curriculum, a volunteer instructor for the Chapter (if necessary and depending on volunteer availability), program management, and various financial learning opportunities.
Is there a cost associated for schools or community organizations hosting a Chapter?
No, hosting a Chapter is free of charge for community organizations and students. However, funding is required for the Chapter. Local and national companies, organizations, foundations, and private citizens support the Chapters by making a financial donation and/or helping to recruit qualified volunteers.
What will the student learn if she is in a Chapter?
The student will learn financial terms and concepts and with it, money management. She will learn how to budget for life after high school, life at college and life post college. She will conduct business case studies and learn how to buy a stock and what a bond is. She will learn about her retirement investment vehicles and how to invest her first earned dollar. She will be exposed to female financial professionals and will visit a financial institution. Girls will also be exposed to soft skills such as public speaking, leadership, teamwork, and networking.
What does a typical Chapter look like?
Rock The Street, Wall Street's mission is to create gender parity within the financial sector by providing a unique educational experience for young women to learn finance. All high school girls from grades 10 through 12 are welcome. Most chapter meetings are held at a high school campus or a community center. There are usually 10-30 girls in each chapter. Each chapter meets one hour once a week, for five weeks. The workshops are conducted by leading female financial professionals. Upon completion of the workshops, the chapter members are invited on a field trip where they will visit with women in private equity, hedge funds, investment, bank, entrepreneur centers, or treasury departments.
Who is eligible to join a Rock The Street, Wall Street, Wall Street Chapter?
Rock The Street, Wall Street's mission is to create gender parity within the financial sector by providing a unique educational experience for young women to learn finance. All high school girls from grades 10 through 12 are welcome.
Is it a requirement for Host Sites to secure an Instructor for a Chapter?
No, it is not a requirement. However, if your host site is located in an area where we do not have local partnerships and staff, it may be more challenging for us to provide you with an instructor. We will work with you to find an instructor but cannot guarantee placement. We encourage host sites to recruit their own instructors.
I am a parent who is interested in getting my daughter involved in a local Chapter. How can I start an Chapter near me?
If you are a parent who wants to get your daughter involved in Rock The Street, Wall Street, approach your local high school or community center about launching a Chapter. There are three requirements to starting a chapter of Rock The Street, Wall Street near you:
Approach your local high school or community center and ask them to help you get one started and if they will host a site
Approach your local businesses, foundations, and private individuals for funding.
Contact us and we'll help you reach the right people
Want to bring Rock The Street, Wall Street to your school?
Eager to partner with Rock The Street, Wall Street and share your company's expertise with the next generation?
Let's chat!