It has been an exciting fall semester at Rock The Street, Wall Street (RTSWS)!
We thought a trip to White House in October was the bee's knees! Then, last week, we were invited to ring the Closing Bell at Nasdaq on Friday, December 2nd.
RTSWS Students Tour NASDAQ
Watch RTSWS in action as we ring the market closing bell in the video below. Skip to the 2:25 minute mark to bypass the Times Square footage. (Where we're 7 stories tall!)
A group of young women from WC Bryant High School, participants in our NYC program, had the opportunity to tour the Nasdaq Market Site in Times Square.
During the tour, the students learned more about the ins and outs of trading and how Nasdaq operates as one of the largest electronic stock exchanges in the world.
The tour was then followed by a trip to the board room where an all female panel of TD Ameritrade financial professionals answered questions and shared their experiences with the girls giving them real world perspectives and applications on how finance can impact their lives. The professionals also advised the students to study business while in high school to give them a competitive edge in their college classrooms.
It was an impactful experience for our students. Here are a few pictures from the day.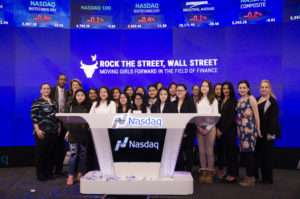 W.C. Bryant girls with at NASDAQ
Interview with Megan Modic
RTSWS also had the opportunity to sit down with Megan Modic, of The Millennial Report, Nasdaq, in the series Behind The Bell, to discuss the mission of RTSWS, what is coming up in 2017, and how you can help RTSWS bring this program and financial literacy to many more young girls throughout the country.
Watch the interview below.