Phoenix Club of Nashville joins forces with 
RTSWS and MNPS Overton High School 
to empower girls with the M in STEM.
Last year The Phoenix Club of Nashville (PCON) awarded Rock The Street Wall Street (RTSWS) $12,500 to co-sponsor our program at Metro Nashville Public School, Overton High School. Using their Venture Philanthropy (VP) process, PCON partnered with us–creating a relationship of mutual respect and passion for change. 
You might think RTSWS which caters to females ONLY, would NOT have much of a champion in a men's ONLY organization. However, we have met our match with PCON and are very alike in what we are trying to achieve:

PCON's mission is to benefit under-served youth in Middle Tennessee AND to develop its members into leaders who will address diversity and inclusion issues in their community and in their business.


Want to hear more about how that aligns with RTSWS? We asked 2018 PCON President Dave Hanson "the hard questions." See below for his answers.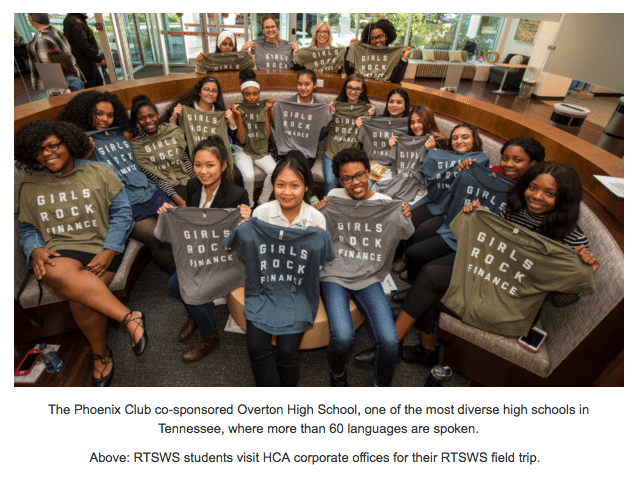 Q: Why did your club want to sponsor the RTSWS program at Overton High School?
A: There are many reasons, but some of the most meaningful are that RTSWS: 
1) Clearly articulates the problem they are trying to solve
2) Has a passionate and capable management team and organizational structure
3) Tracks the outcomes of how girls in the program progress in business and finance
4) Mission aligns with the background/experiences of many PCON members, many of whom are finance professionals
The opportunity to co-invest with the HCA Foundation at Overton High School was one that made a lot of sense for the Phoenix Club.  Our corporate development team, led by Roscoe High & JC Darby, is constantly looking for collaborative partnerships with business leaders in Middle TN, and the co-investment at Overton fit squarely into what we are looking to achieve.  The Phoenix Club sees dozens of non-profit programs per year, and we hope to build on this model as we work with other corporations / foundations to help them achieve their philanthropic goals.
Q: Why does a club for men think it's important for high school girls to know how to budget, save and invest?
A: PCON and RTSWS both look to provide equality of opportunity and access to valuable skills and programs that can dramatically change family trajectories in one generation. RTSWS' program has served as a reminder that things don't just change on their own—people have to create the world they want to see. Economic empowerment carries lasting impact.  Understanding the core components of finance can provide a sense of security, and the ability to go out and take a risk and make better decisions for yourself and your family.  No one should be limited by a social stereotype or historical gender role, and sometimes it just takes a nudge to remind people.


RTSWS is providing valuable skills and new economic opportunities for girls in Middle Tennessee.  These opportunities are creating a brighter future for girls in Middle Tennessee and has a "compounding interest" effect as more and more girls follow in their footsteps.
PCON you're a spark plug for good!
Thanks for igniting something amazing at MNPS Overton High School!

Start up a school near you with the 
M in STEM!