Three New Members Join the RTSWS Board of Directors
A trio of influential women in finance joined our board in January.
The new board members are:

Judy Ricketts, Managing Director and Head of Investor Services at

TD Ameritrade

Christine Ritchie, Director of Compliance at CarVal Investors

Jennifer Knight, Senior Investment Analyst at Hospital Corporation of America, (HCA)
Judy Ricketts has served on the RTSWS advisory board for the last two years. She has been instrumental in expanding RTSWS programming to additional cities across the U.S., helping secure funding and recruiting volunteers from TD Ameritrade, where she leads nearly 2,000 associates in the retail client experience contact centers. She was a founding member of TD Ameritrade's Diversity and Inclusion efforts. Judy also sits on the boards of the Women's Fund of Omaha and the Securities Industry and Financial Markets Association's (SIFMA) Diversity and Inclusion Committee. Judy earned a bachelor's degree in Psychology from University of Nebraska-Lincoln.
Christine Ritchie, CFA, CFP
Christine played a major role in bringing RTSWS to Minneapolis, encouraging CarVal Investors to sponsor and support the program locally. She serves as Director of Compliance for CarVal Investors in Minneapolis. Prior to joining CarVal, she held a variety of leadership roles at Pine River Capital Management, Goldman Sachs and Merrill Lynch across the globe, including New York City and Hong Kong. Christine currently co-chairs the 100 Women in Finance Minneapolis chapter. She earned both a bachelor's degree and master's degree in Accounting from University of Texas at Austin.
Jennifer Knight started volunteering with RTSWS in 2017, bringing the program to two public schools in Nashville. She has more than 30 years of experience in investments and accounting. As a Senior Investment Analyst in the Treasury Department at HCA Healthcare in Nashville, Jennifer manages financial reporting, budgeting and accounting of the HCA Hope Fund, the HCA Foundation and HCA's insurance subsidies. Prior to HCA, she worked in various roles at Bank of America. Jennifer earned both a bachelor's and master's degree in Accounting from Harding University.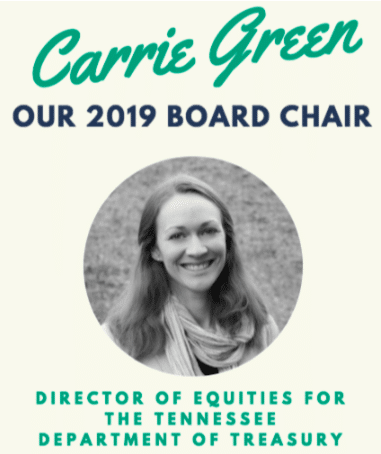 Carrie Green, CFA, MA, RTSWS 2019 Board Chair
Carrie has served on the RTSWS board of directors since 2017. As Director of Equities for the Tennessee Consolidated Retirement System (TCRS), she oversees a variety of equity portfolios valued at over $49.6 billion. She is the first woman to lead an asset class for the Tennessee Department of Treasury. Carrie also serves on the Economics and Finance Advisory Board at Middle Tennessee State University. She earned a bachelor's degree in Business Administration from Lambuth University and a master's in Economics from Middle Tennessee State University.
Momentum is building and plans are underway to expand our reach in 2019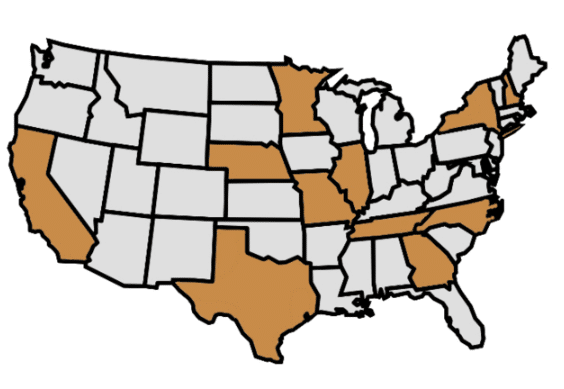 ADD YOUR CITY TO THE LIST.
BECOME PART OF OUR GROWING IMPACT.