We believe finance is at the heart of opportunity.
We are making a difference. The numbers prove this.
Girls who have participated in our workshops have had an 84 percent increase in their comprehension of financial concepts. They are changing their college searches and major/minor declarations to include finance, accounting and business where before they hadn't even considered these fields.
We are the M in STEM.
Access to STEM education is access to power. STEM professions are tools to lift people out of poverty.  We recently attended the White House Conference on Inclusive STEM Education, where this conference reinforced our belief that students look to DO what they SEE examples of and RTSWS offers them such examples.  Our female financial professionals, who are our classroom instructors and work in careers in the M in STEM are "in the flesh" role models for our students. Our instructors can talk the talk and walk the walk in the field of finance, where women represent only 6% of the leaders.
With RTSWS programming, high school girls are being engaged in the bigger picture and the ability to envision their financial futures for themselves, their families and their communities. They explore careers in finance, where the jobs are growing each year. Volunteer female financiers who are our instructors, bring the RTSWS curriculum and their life experience right onto the high school campuses at times that are optimal for the students – usually before or after school hours. The students also have a Wall Street experience field trip to a local financial institution where they get to see and ask questions of the women bankers, accountants, wealth advisors, portfolio managers and comptrollers. In some schools, we offer, too, a formal mentor/protege program.
We alert the girls about how high the return on investment is on just an undergraduate degree in finance, economics and business as compared to other undergraduate majors. This is critical to those students who do not have the financial wherewithal to attend graduate school. We also have students in our classes who are not college bound.
Forty years after the adoption of Title IX, women continue to confront barriers to full equality at all levels. Most critically of which is in their financial lives. In high school AND college finance and economics classrooms, girls are few in number. As a result, their opportunities in pay and promotion and life are unequal. Equipping girls with financial skills is a VITAL part of both ensuring equality and lifting them out of poverty.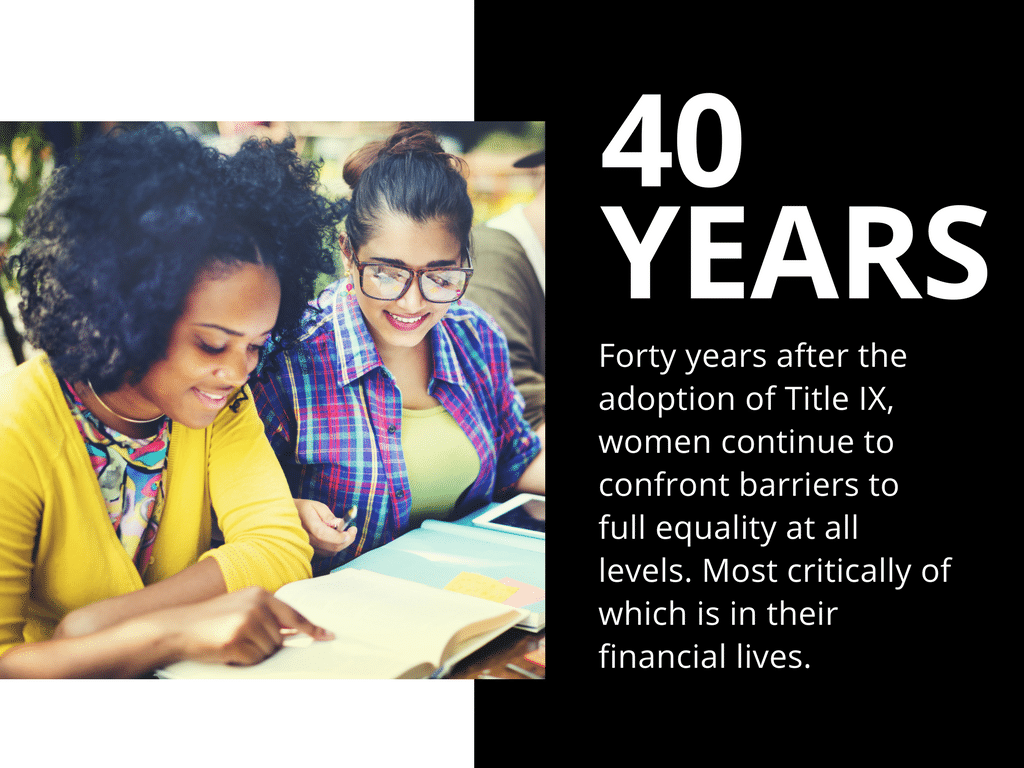 A record 40% of all households with children under the age of 18 include mothers who are either the sole or primary source of income for the family, according to a new Pew Research Center analysis. The share was just 11% in 1960.  Many of these families are living at or below the poverty level and with financial education, like RTSWS, young women are becoming empowered to break the cycle that reinforces continuing poverty.  RTSWS programs expose opportunities for gainful employment across the country and serves as a pipeline for career exploration into the financial services industry and financial departments of all major corporations.
Many of our students do not have positive role models at home on how to use money. Partnering with schools and youth-oriented civic organizations and "going to them" enables us to reach students on their campus at a critical age in their self-actualization and first time usage of money.
Rock The Street, Wall Street (RTSWS) programs inspire, educate, and equip girls with the skills to succeed financially throughout their lives while exploring a career in finance.  RTSWS is a financial literacy program designed to spark the interest of high school girls into careers of finance.