It Starts with Step #1
TD Ameritrade's ThinkorSwim offices hosted students from Chicago's Lincoln Park High School. The field trip, and the entire Rock The Street, Wall Street year long program, is a decisive route in getting more girls interested in finance. 
"If the girls know more about the programs that are available to them, if they know more about the challenges that do exist with regard to women and their finances as well as their lack of representation in leading roles in the profession, we, as volunteers, can help educate the students so that they begin to visualize controlling their financial lives as well as joining us in our careers. Step #1 is opening your eyes and being aware." 

–Alisa Kolodizner, CFP, Guidance Sales Manager at TD Ameritrade and RTSWS lead volunteer
The Chicago students' eyes opened wide during their on site industry trip where they met female role models at TD Ameritrade's Think or Swim offices. For the past two months, girls participated in classroom workshops at their schools where they were given hands-on financial projects to work on collaboratively with their classmates. This was capped off with the field trip to meet women who work with numbers – something they don't see in popular culture. 
If they can see it, they can be it. After tours of the trading rooms and offices, the students met and listened in on a lively panel discussion that included:
Stephanie Lewicky, Senior Manager of Futures & Forex at TD Ameritrade
Laura Van Peenan, Managing Director and Head of Chicago Coverage for William Blair
Melissa Binder, Vice President of Distribution for PPM America
Lorraine Gavican, Managing Director of Trader Operations, Supervision and Oversight at TD Ameritrade
A lively Q&A session ensued.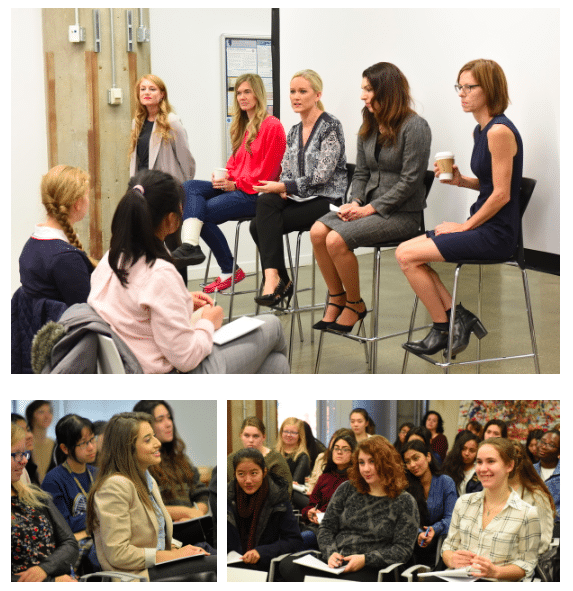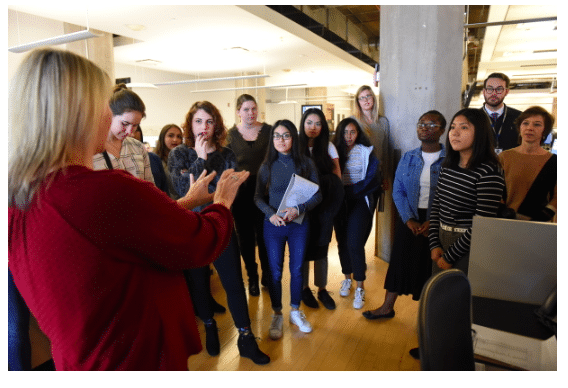 Step #2?

The Gen Z students connected and shared some of the following thoughts with us…

"I was one of the people who would say 'Why do I even need math in my life?' and now I know that I will need it for sure." 
–Amanda Kubanychbekoba, Lincoln Park High School"Before I wasn't really sure if I wanted to take a math class in college or university but now I know that I want to because I realize that it is important in real life. It is always something teachers say you need but this has shown me that I really will need it." — Eleni Bethke, Lincoln Park High School
And our champion teachers, those school teachers who help us recruit our students had this to say…
"To see the students' enthusiasm after they were leaving the class that had been going on… how exciting! They said 'what a great session!' They feel confident and are very interested." – Mary Enda Tookey, Lincoln Park High School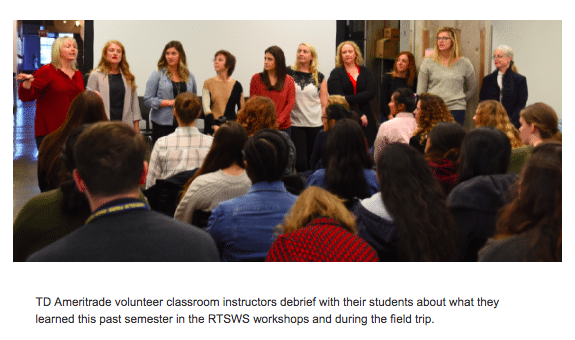 Throughout the semester, these RTSWS students have been eager to learn and engage with the financial professionals surrounding them in their classrooms and worked with them on their personal and professional goals.
RTSWS chooses to work with teenage girls who are beginning to define their future selves. We are influencing students at a crtical juncture in their lives – just before they choose their colleges and majors/minors.

We show young women that knowledge of finance is critical to their personal freedom. We offer, too, a view into the financial profession – an avocation where they can help change the trajectories of individuals, families, companies, municipalities, states and nations.
They can change the world.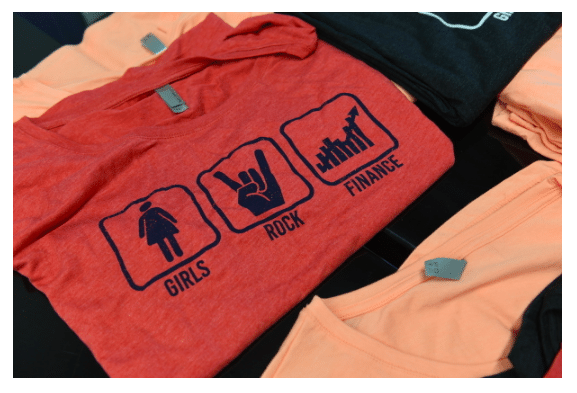 Thank you, TD Ameritrade.
Your inviting corporate culture, innovation and leadership is just what our high school girls need to see.