"A mentor is someone who allows you to see the hope inside yourself."
– Oprah Winfrey
A Historic Year For Rock The Street, Wall Street
The 2018-2019 school year was a record for Rock The Street, Wall Street! We offered our program in 18 schools across 13 U.S. cities. Here are more numbers:
Fall sessions: 503 high school students participated in our fall classroom workshops, led by 150 female financial professionals across the country.
Spring sessions: 159 mentors–all female money management professionals–working with 245 female high school students.
Today, we're highlighting  the spring mentoring component of our program, and the impact it's having on our students.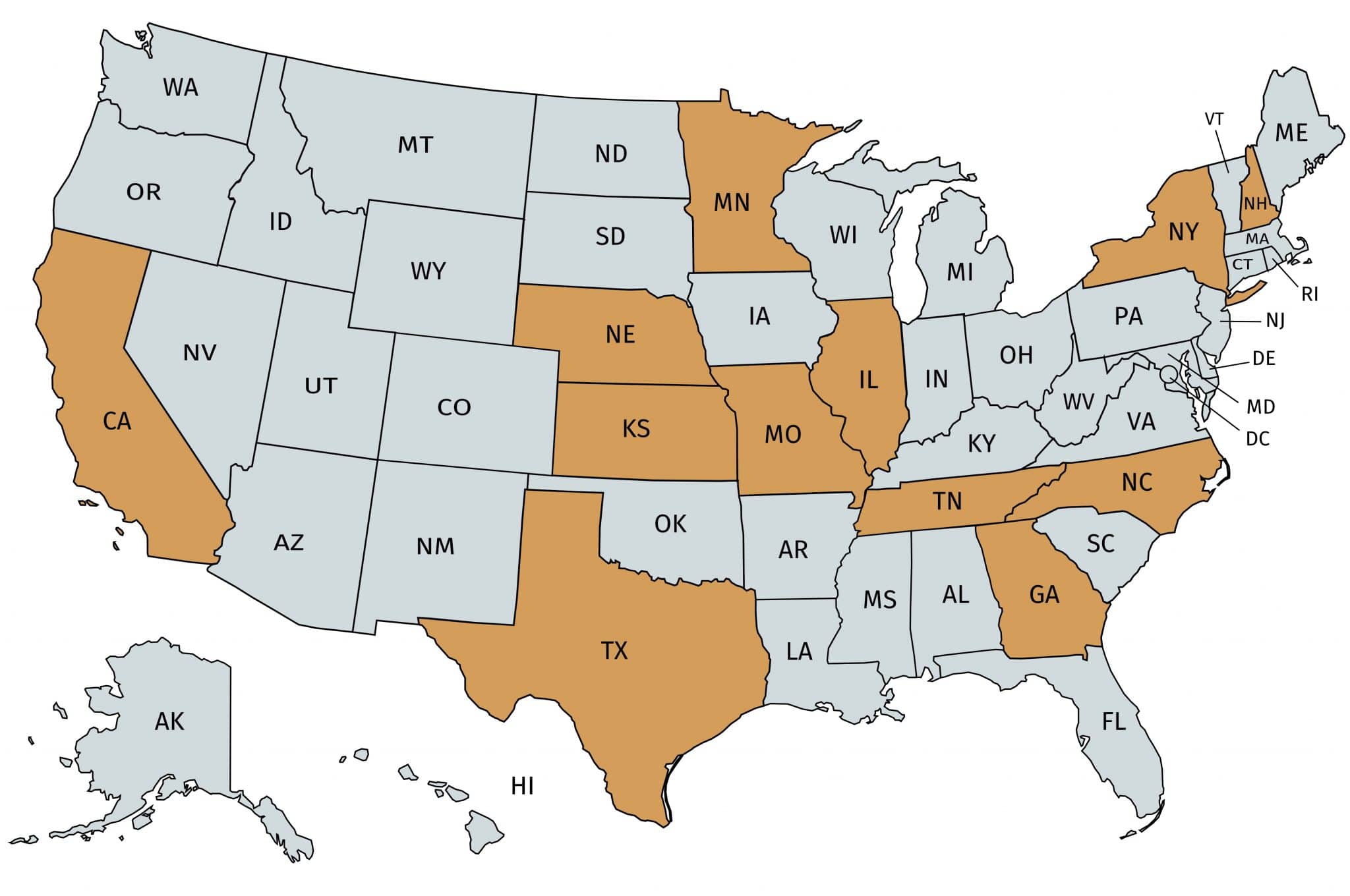 RTSWS Continues To Spread Its Impact, Coast To Coast
A Mentoring Deficiency In The U.S.
According to the American School Counselor Association, the recommended ratio of students to guidance counselors in 250:1. Question: How effective can that be? Even worse, the national average in the U.S. is actually 482:1. Ratios for the states where Rock The Street, Wall Street is currently being provided are below. 
California – 760:1

Illinois – 664:1

Kansas – 473:1

Minnesota – 723:1

Missouri – 347:1

Nebraska – 387:1

New Hampshire – 227:1

New York – 635:1

North Carolina – 378:1

Tennessee – 339:1

Texas – 449:1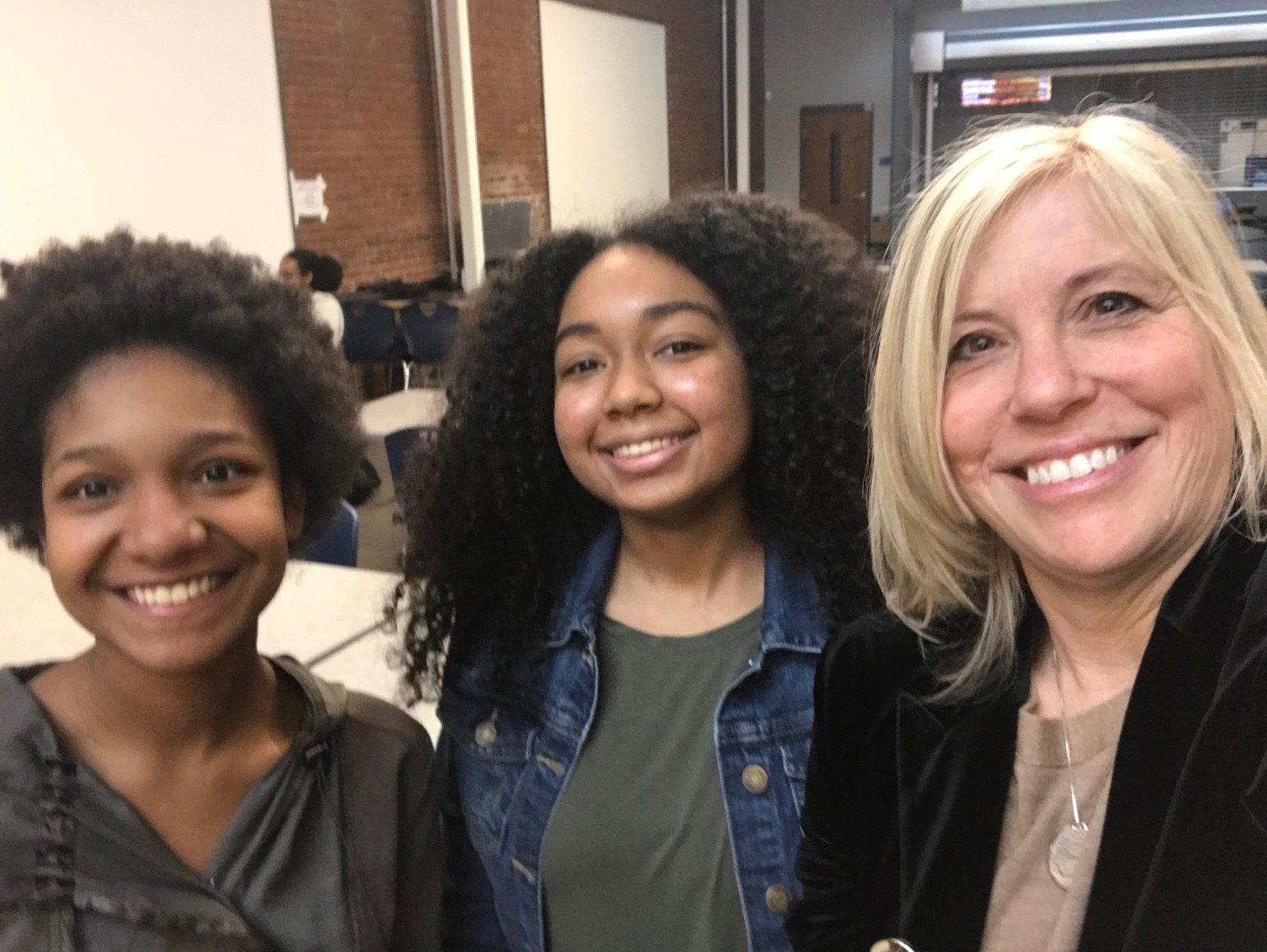 HCA Mentor Jennifer Knight With Her Proteges From MLK High School In Nashville, TN
RTSWS student to mentor ratio is 1:1 or 2:1. Our mentors give their proteges a major advantage in getting valuable advice on where to go to college and which majors to choose in college as well as what courses our students should be taking while in high school. Mentoring is a valuable resource in developing the student's self confidence, providing accountability for her goals, discovering her interests and professional aspirations.
The significance of having a mentor in one's life cannot be understated. Studies show that providing high school aged students with mentors has a wide array of positive effects: Increased graduation rates, healthier relationships and lifestyle choices, better attitude about school, higher educational aspirations, enhanced self-esteem and self-confidence, stronger relationships with parents, teachers, and peers and improved interpersonal skills.
Further, RTSWS provides them with uniquely qualified mentors: female financial professionals who can "walk the talk" when it comes to financial literacy. One of the "School Champions" who works with the program, Renee Fredericks, explains why this is so critical:
"For a lot of our girls, it can be really hard to be what you can't see. A lot of them don't have women in their families that work in business or professional fields. So when they get to college, when they finish high school, they'll be able to think back on this experience and know what their possibilities are and be able to explore."
At each session, students not only connect with a positive money management role model and build a relationship with her, but also see their friends spending time with other female financial professionals. In this sense, the Rock The Street, Wall Street program shows them a community of highly skilled and successful women who work in an M in STEM field; a profession that many of them did not even know existed before they joined the program.
This community also captivates many of the mentors, who report that volunteering with the program helps them meet other like-minded women from their own firm, feel more connected to their companies, and find more purpose in their work.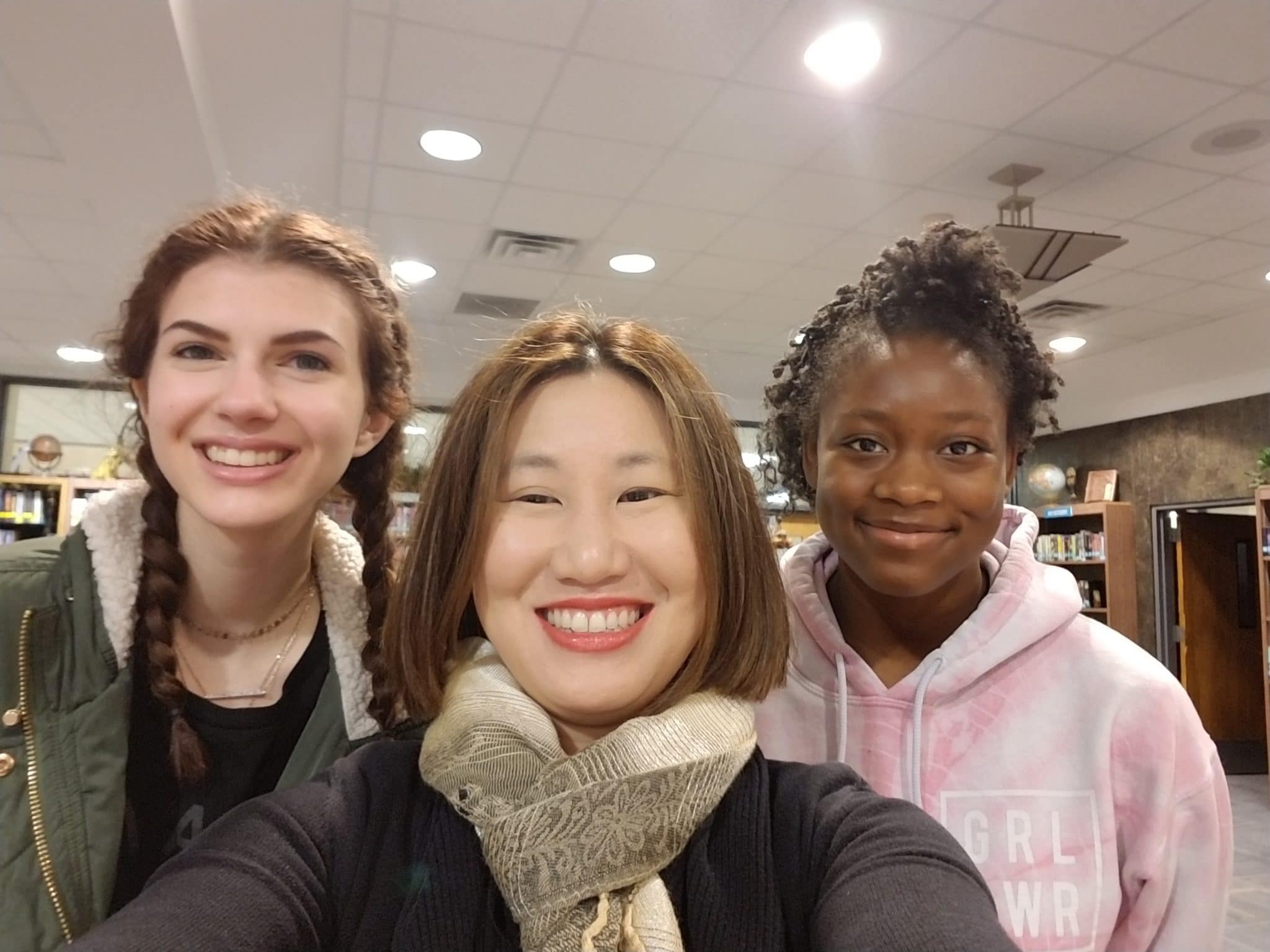 Volunteer Anh Mecha with her two proteges from Burke High School in Omaha, NE
The mentoring component of the program runs throughout the spring semester, with a minimum of five sessions taking place in classrooms. Many of our mentor/protege choose to meet more often than this, with several continuing to develop their relationship throughout the summer and even into the following year. Over 60% of our mentors and proteges report they are planning to stay in touch over their summers.
Each session has a conversation topic for the student and mentor to discuss, with actionable tasks and worksheets to help facilitate the discussion. These are not simply fluffy relationship building exercises either; these are well-researched topics that help the students actively think about and prepare for their futures. Below is a outline of the topics covered each session.
Session 1 – Introduction to Financial Pros, LinkedIn Profile and Digital Footprint
Mentor and Protege teams meet together to discuss the student's academic and professional aspirations. Mentors work with students to create a LinkedIn profile, show them how LinkedIn is used in the professional world and connect their profiles so that students may get a better understanding of networking. After this, the conversation turns to digital footprint as mentors share with students the dangers of posting the wrong things to social media.
What Our Volunteers Had To Say About Session 1:
"Very open dialogue and clearly communicated the areas of growth they'd like to work on. I gained a lot of insight from both Anna and Namrata and look forward to working with them!"
"Had a great first session! Looking forward to the rest. As an aside – Would appreciate having an opportunity to connect with the other mentors more formally"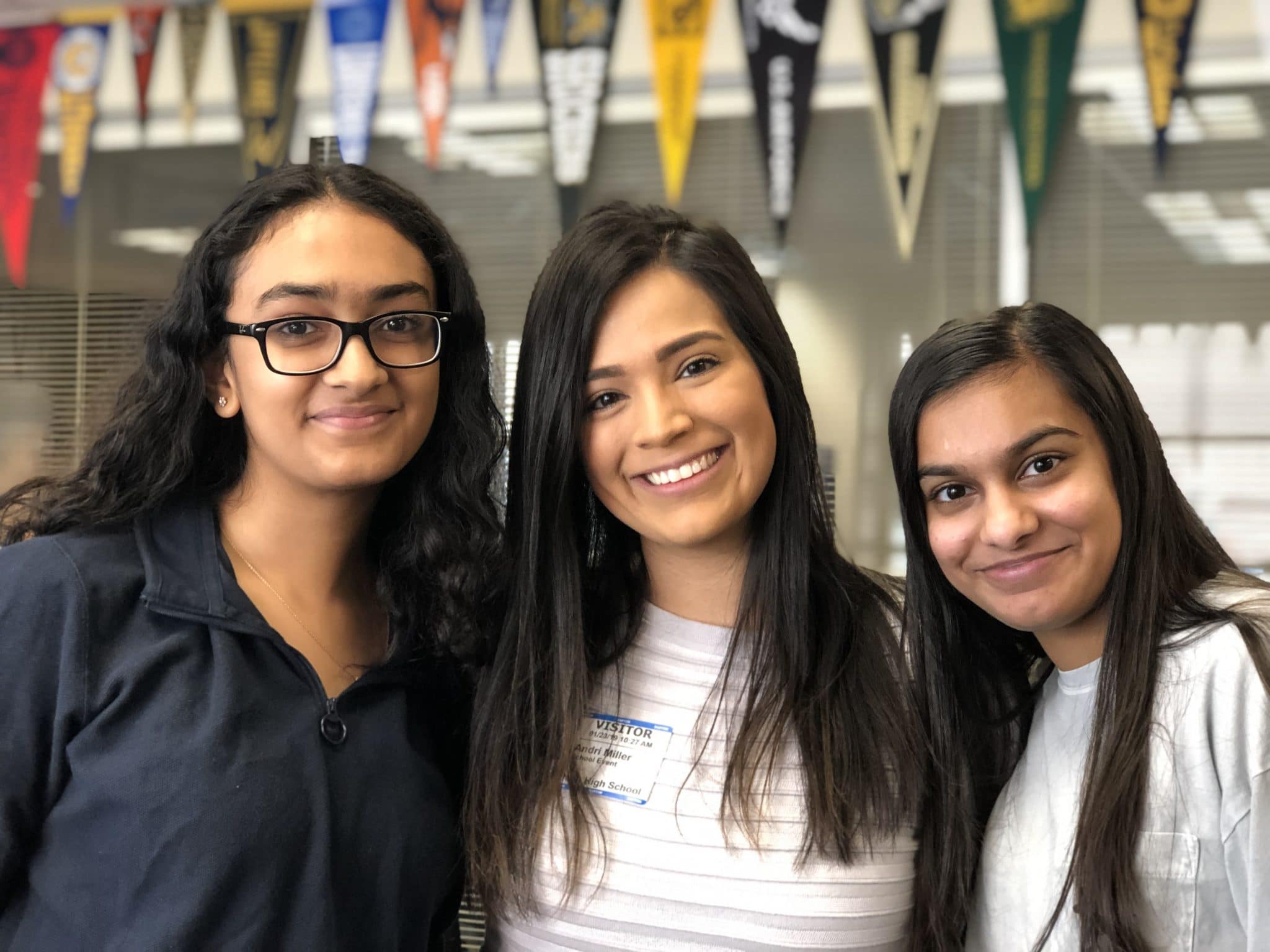 Volunteer Andri Zamora with her Byron Nelson High School proteges in Fort Worth, TX
Session 2 – Resume Building
Mentors work with students to begin developing their resumes. These resume sessions are important as almost 60% of our students this year reported that they did not have a resume upon entering the RTSWS program.
What Our Volunteers Had To Say About Session 2:
"I spoke about digital footprints, and at the end of the session I asked the young ladies to say one thing that they will take away from our session. One young lady stated 'I know you said something about feet, but ultimately I'm going to be more mindful about how I represent myself on Twitter and what I post because a future employer has access to anything I post even if I delete my account.' It was memorable because she didn't remember the terminology 'digital footprint' but she understood the concept."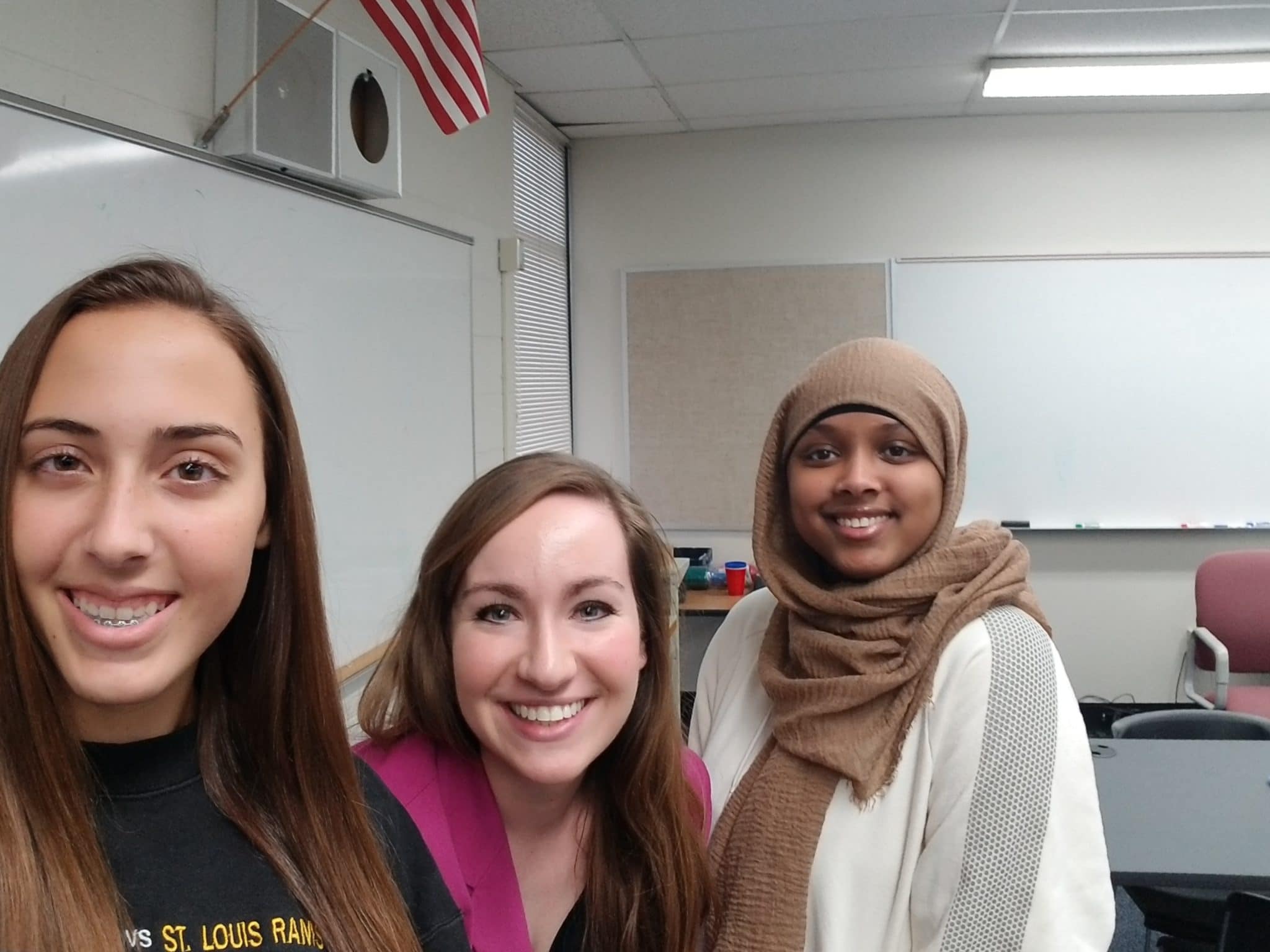 Lauren Kuechenmeister with her Parkway Central proteges in St. Louis, MO
Session 3 – Resume Review, Career Quiz and Personality Assessment
Students resumes continue to be worked on and then, time for assessment testing – they take both a career and a personality assessment. Our mentors then meaningfully review with their proteges what different career paths look like. For many of our students, this is the first time they are actively thinking about what career they want to pursue. The varied professions within the financial industry are brought to light.
What Our Volunteers Had To Say About Session 3:
"The proteges are starting to open up and get a little more comfortable."
"All of my mentees really wanted to create their resumes for college applications! I was impressed with how much work and thought they put into them today."
"We drafted together and sent an outreach email to a contact for a possible summer internship. We also completed her first resume!!"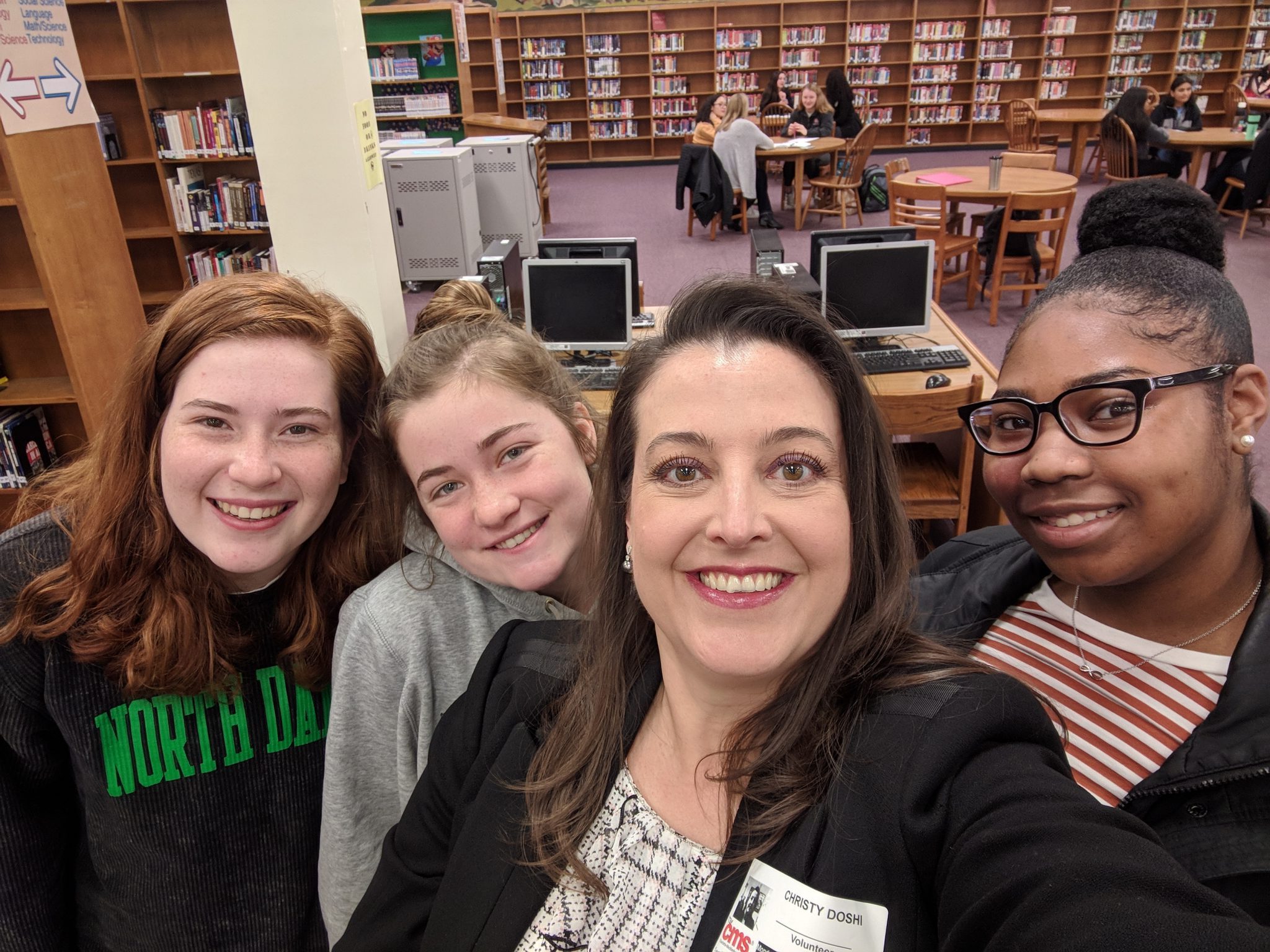 Christy Doshi with her South Mecklenburg proteges in Charlotte, NC
Session 4 – Career Choices And Interview Skills
Mentors have students think about what courses they can be taking in high school, which college majors they may want to consider, and possible postsecondary degrees. Mentors then roleplay interview skills with the students, exemplifying best practices and also things to avoid.
What Our Volunteers Had To Say About Session 4:
"Kathlyn is so incredibly driven and focused. I'm enjoying the opportunity to help her get to the next level."
"Very attentive and willing to learn! I feel like I'm actually making a difference!"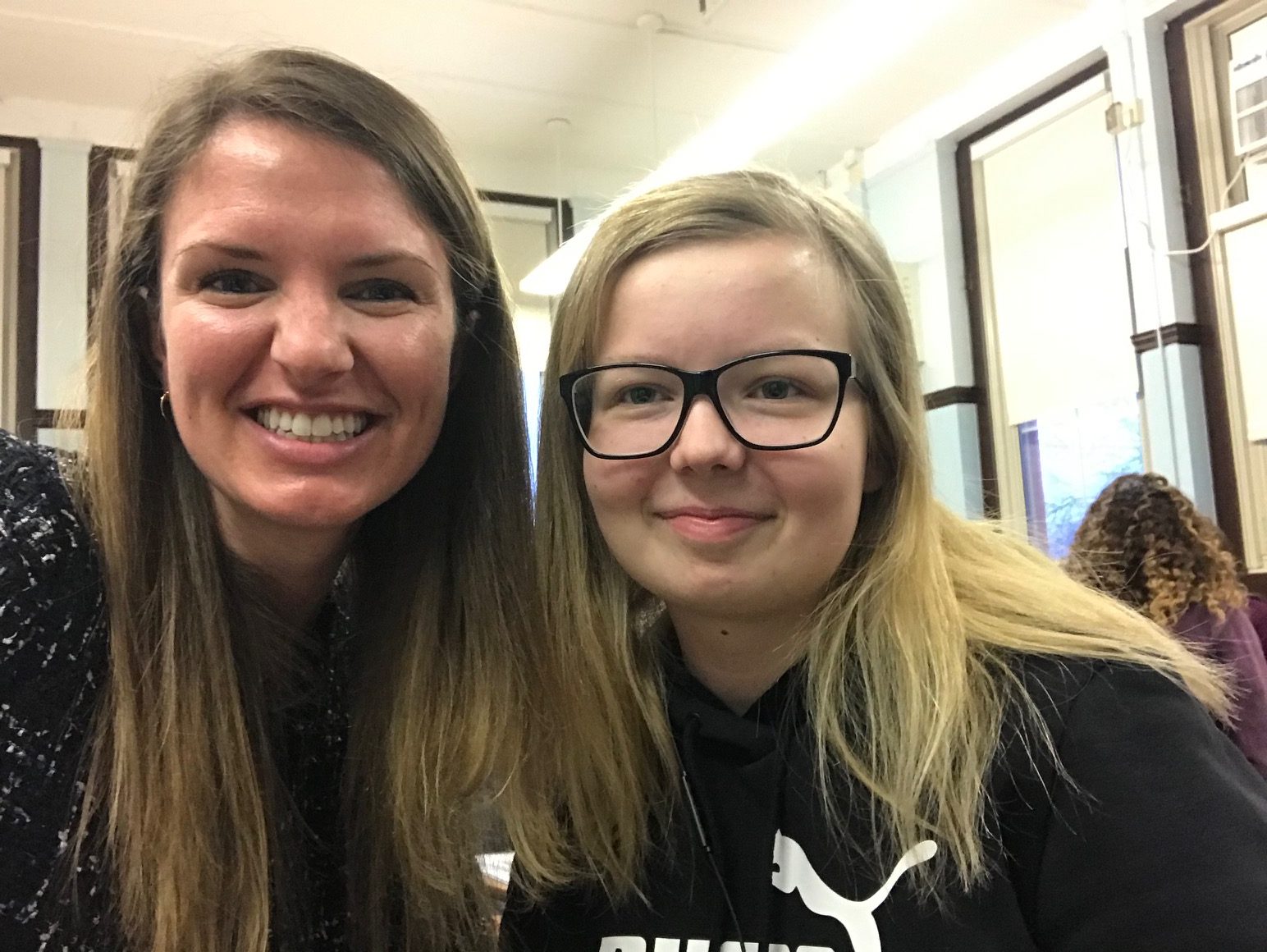 Allison Valentor with her Lincoln Park High School protege in Chicago, IL
Session 5 – Women In Finance
The final session serves to continue the discussion on career paths, with a focus specifically on finance as a career for those who are so inclined. By this point in the semester, over 90% of our mentors report either a strong or very strong rapport with their respective students. This allows the last session to be more of a personal look into the path the mentor took in her own life, and what she currently does.
What Our Volunteers Had To Say About Session 5:
"These girls are awesome – one of my mentees started her own club and recruited volunteers to fundraise for a national organization which empowers women. Great reminder of the snowball effect of giving back – these girls are already helping others!"