Girls at nine high schools across the U.S. will begin our five week Financial Education Workshops. These workshops, held at their school campuses, are the first component of a three part, year-long program.
The three components are:
Fall – Series of five classroom workshops where financial projects, led by female financial professionals, expose our students to the world of finance

End of Fall – Wall Street Experience Field Trip

Spring – One-on-one Mentor/Protege Program and job shadowing 
FALL
During the Fall semester, girls will be working on the following RTSWS Financial Education Projects:
Analyzing 28-year-old Jane's paycheck, including income taxes, deductions and elections

Drafting a budget for Jane

Calculating how much money Jane should put into her 401k 

Creating a stock watch list

Monitoring the stock market's movement during the five week period 

Developing a case studies on two stocks in the same sector and giving a presentation on which stock Jane should buy and why


Debating different investment options – ETFs, Mutual Funds, Bonds, Treasuries, Private Equity, Venture Capital

Drafting college tuition budgets – state school vs dream school

Exploring a career in financial services – What does a financial planner do? 

What does a CFO do? What does a venture capitalist do?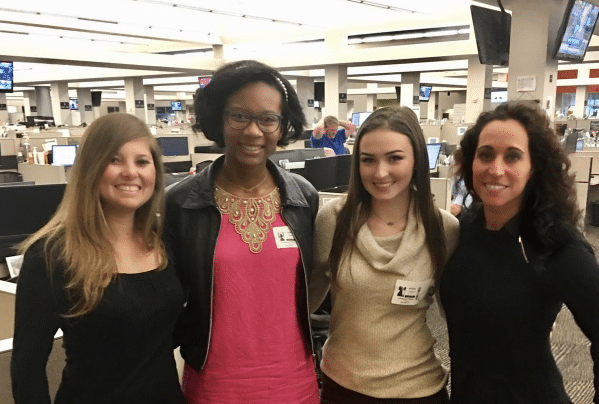 END OF FALL
Field trip to a local financial institution where our girls SEE WHAT THEY CAN BE, a woman in the financial services field who can make an impact.

Field trips are real life. 

They give students a chance to connect classroom lessons to real life experiences and tangible artifacts

They help students prepare for life after graduation and future careers. 
SPRING
During the Spring semester – January through April, students enter into a one-on-one Mentor/Protege Program. Each girl is paired with a female financial professional who takes them further in their studies of savings and investments, markets, college major/minor selections and job shadowing opportunities.
Our volunteer classroom instructors, all female financial professionals, can walk the talk on all matters financial. In addition to savings and investment basics, we rip from the headlines, making our workshops relevant, fun and engaging. 
Our face to face, engaging curriculum, is the reason why RTSWS students have an 84.26% increase in financial comprehension and 72% of our students state they are "very likely or extremely likely" to major/minor in finance, economics or business when they get to college. We're filling the pipeline in the M of STEM.
UPS vs. FedEx: Which Stock Should Jane Choose?
Each Fall, girls conduct a bushiness case study, (securities analysis). This year, the girls will break into teams and will evaluate UPS vs. FedEx from a business model AND an investment perspective. In the past, our students have analyzed Krispy Kreme vs. Dunkin Donuts AND Nike vs. Under Armour.
Students present their team findings and recommendations to their RTSWS classmates, teachers and guests. They create a road map on how and when Jane should invest in the team's chosen stock – 
evaluating business growth, investment objectives and risk tolerance.
 Our case studies evoke curiosity, interesting debate and motivation to learn more about savings and investment and a career in the financial field. 
They learn this is something they can be good at.
Role Models – Women in Finance
CareerGirls.org
 is a video-based career exploration tool for girls, with an emphasis on STEM (science, technology, engineering and math) careers. At RTSWS, we are inspired by these real-world role models and what they have to say to girls. Watch as Venture Capitalist Theresia Gouw shares her explanation of what a venture capitalist does.