RESOURCES FOR
RTSWS STUDENTS & ALUMNAE 
CAREER GIRLS – Career Girls lets you explore hundreds of careers to find out what different jobs are like and how you can get ready for them. You can explore careers that match your personality or interests. You can also discover careers you never even knew existed!
•    •    •    •    •    •    •    •    •    •
NAPKIN FINANCE – We believe in empowering people at all life stages to lead their best financial lives. Use Napkin Finance to breakdown key terms and financial concepts through helpful infographics.
•    •    •    •    •    •    •    •    •    • 
INVESTOPEDIA – Investopedia is the world's leading source of trusted financial content on the web, ranging from market news to retirement strategies, to investing education, to insights from advisors. 
•    •    •    •    •    •    •    •    •    • 
YAHOO FINANCE – Yahoo Finance is a resource for free stock quotes, up-to-date news, portfolio management resources, international market data and more.
•    •    •    •    •    •    •    •    •    • 
THE COLLEGE INVESTOR – The College Investor is on a mission to help you escape student loan debt so that you can start building real wealth for the future. We help you navigate your personal finance decisions – so you can escape debt, earn more money, learn how to start investing, and more.
•    •    •    •    •    •    •    •    •    • 
 CLEVER GIRL FINANCE® – Clever Girl Finance® is one of the largest personal finance media/education platforms for women in the U.S. and we have consistently been voted one of the best finance websites for women. Explore free courses, resources and more! 
STAY ON TOP OF THE HEADLINES WITH THESE NEWSLETTERS
TUNE IN TO THESE PODCASTS ON FINANCE
EXPLORE FINANCE-RELATED COLLEGE MAJORS
CHECK OUT IF YOUR UNIVERSITY HAS A CHAPTER FOR THESE ORGANIZATIONS & CLUBS
BETA ALPHA PSI – The International Honor Organization for Financial Information Students and Professionals
BETA GAMMA SIGMA – The International Business Honor Society
DELTA MU DELTA –  The International Honor Society in Business
ALPHA KAPPA PSI – The Professional Business Fraternity
SMART WOMAN SECURITIES – Educating and empowering a new generation of women investors with greater financial knowledge and investment influence.
LEARN MORE ABOUT PROFESSIONAL DESIGNATIONS & ASSOCIATIONS
RTSWS Resume Template (U.S. & Canada)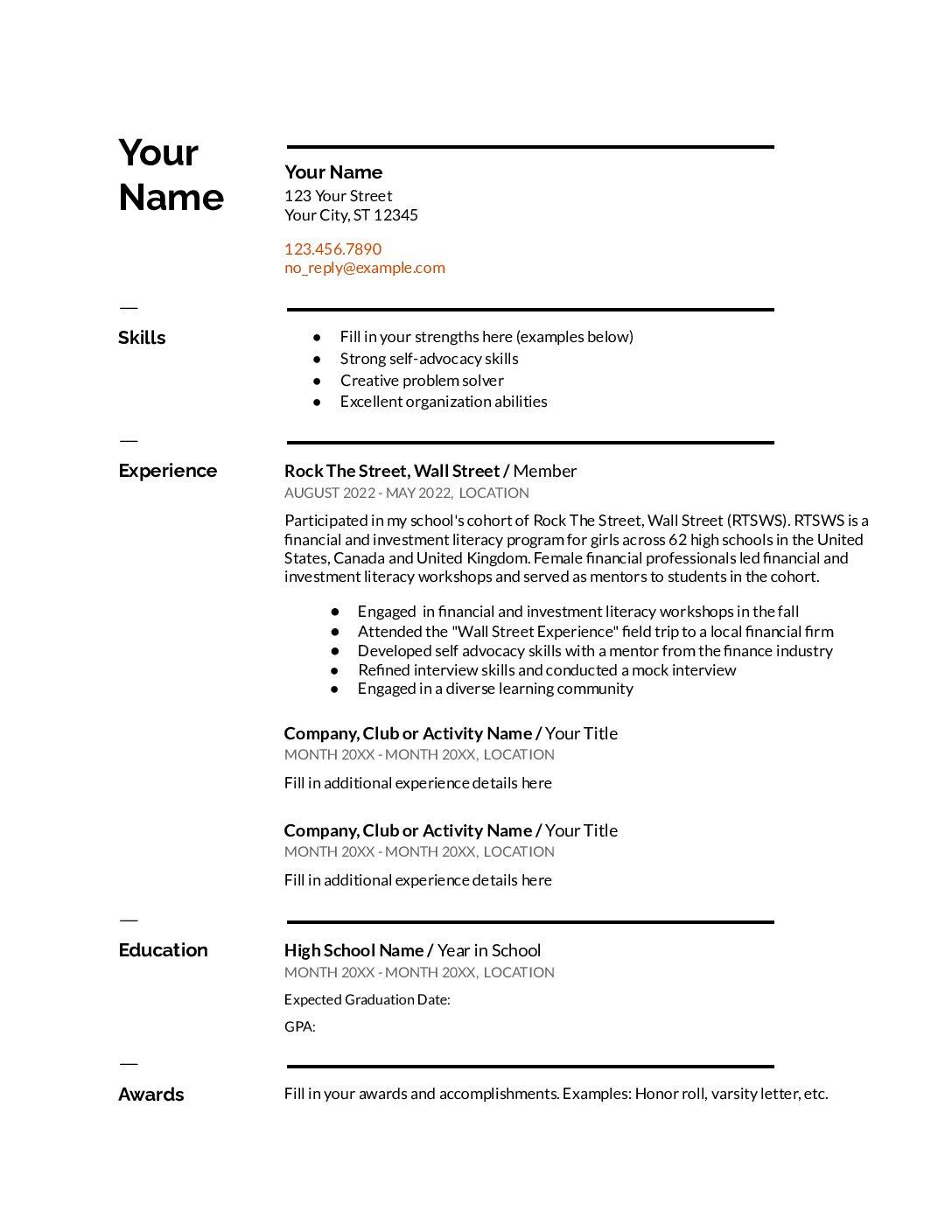 Link to Make a Copy of the Google Document Template
Template from Spring Mentorship Handbook
(for reference)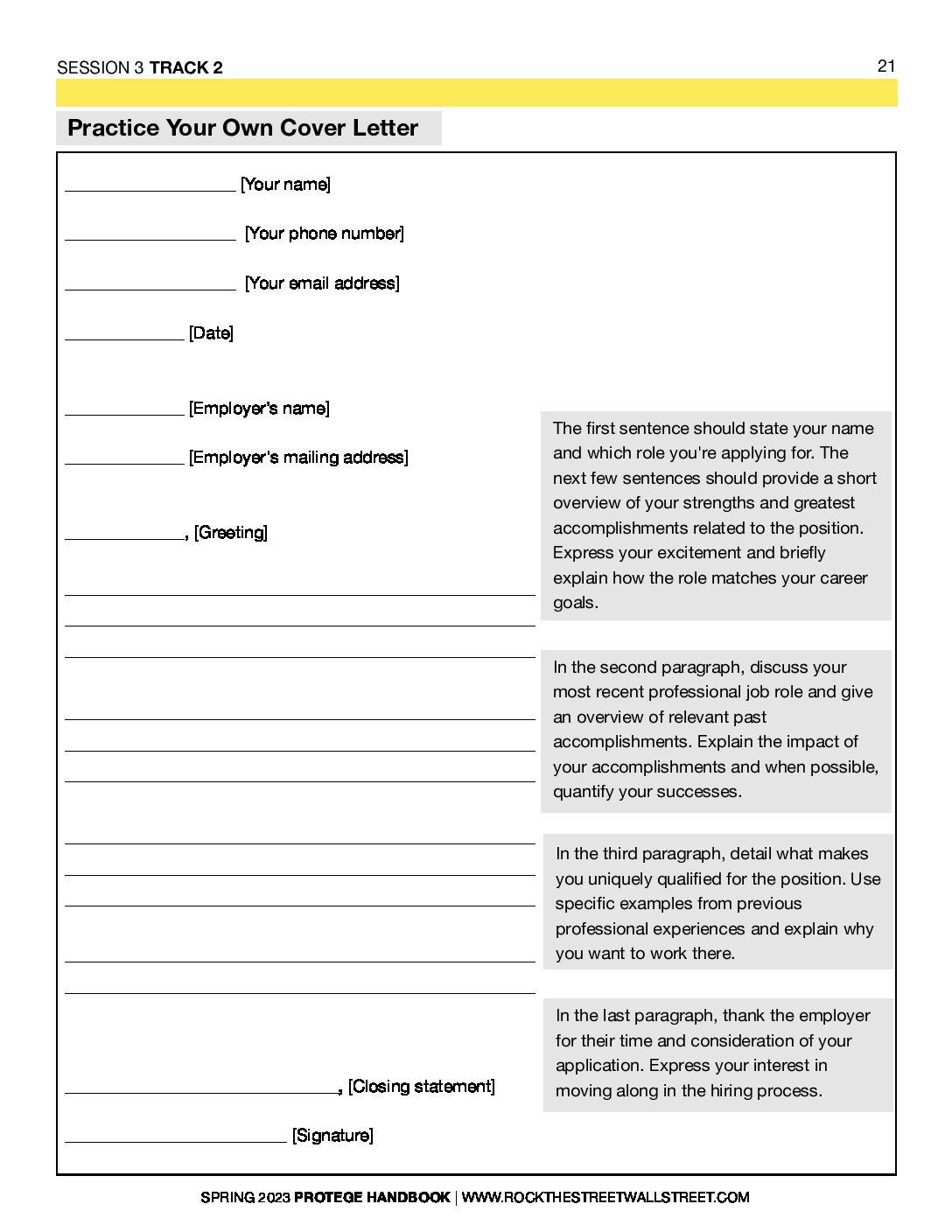 All royalty proceeds from Undiversified will 

be 

donated to Rock The Street Wall Street (RTSWS)

, 

a 501(c)(3) charity.
In Undiversified, experienced practitioners Ellen Carr and Katrina Dudley. CFA (a RTSWS volunteer in Short Hills, NJ), examine the lack of women in investment management and propose solutions to improve the imbalance. They explore the barriers that subtly but effectively discourage women from entering and staying in the industry at each point in the pipeline.